How did you become the world-renowned artist that you are and choose artivism?
I'm proud to come from a humble background. I grew up in the neighborhood of Campo Limpo in the city of Sao Paulo. I'm a self-taught artist, and due to my background, I had to fight ten times harder: to persevere, to have hope, to have faith, and to strive that much more because I didn't get any support. I didn't have sources of inspiration. I didn't have access to sports, cultural, or leisure activities. I experienced instances of extreme violence, aggression, bigotry, racism, and intolerance.
My childhood with my family was healthy, but I was surrounded by events and situations that could have led me towards a life of crime, drugs, and alcohol. There were so many hard situations, and I think that's the point: walking away from that, knowing myself and where I wanted to go, so that I could get away from it all and move forward through art. That was a watershed moment in my life. My faith in God also helped guide me to overcome those extremely difficult, complex, and painful situations that I experienced.
As a self-taught artist, do you see yourself as a role model for young talented people the world over?
It's a great privilege to see that my work is among the most published and studied in Brazilian textbooks, according to data we have received from companies that work on copyright issues. This is something very special that happened organically, through the serious, determined, and hard work to which I have dedicated my life. There's no difference between my identity, values, principles, and the messages that I incorporate in my murals. Now, it's interesting because my work went from being something which was frowned upon, which people didn't understand or associated with vagrancy, to a context where I can truly show that there's no difference between art shown in a gallery or a museum and street art. There's no difference between an artist who had the opportunity to study in the world's top universities and an artist that is born in a low-income community or a favela. Art is art. It comes from inside, from the soul, from the heart, from our spirit.
The pieces that I have created, with so much love, passion, and a desire for change, have touched the lives of many young people. Besides being an honor, this is also a great responsibility for me. I keep moving forward. Today, I face different challenges, on a different level, but they're still there. I see my work as a mission to transform lives through the power of art, to change the lives of girls and boys living in poor communities. I see art as a vaccine, an antidote, and a tool for transformation. If it happened to me, it could happen to many other people.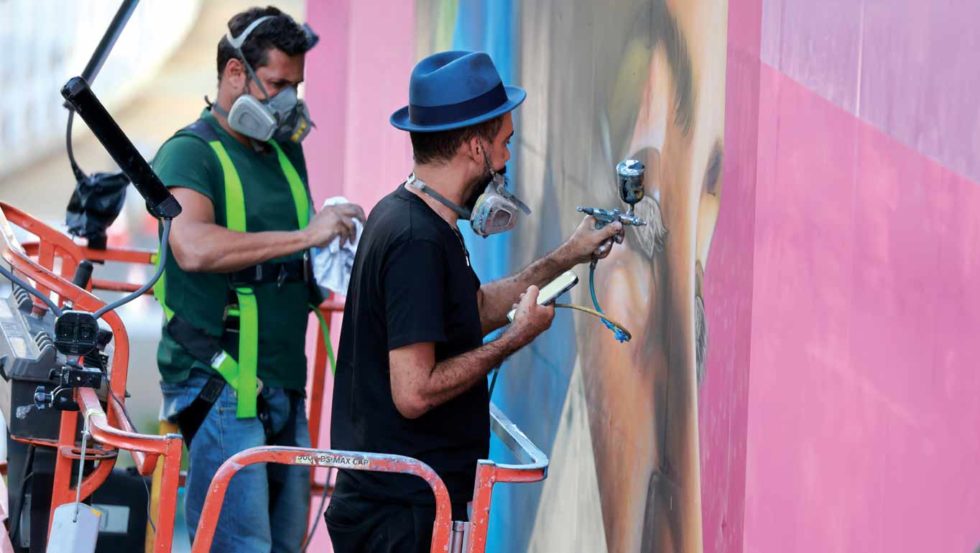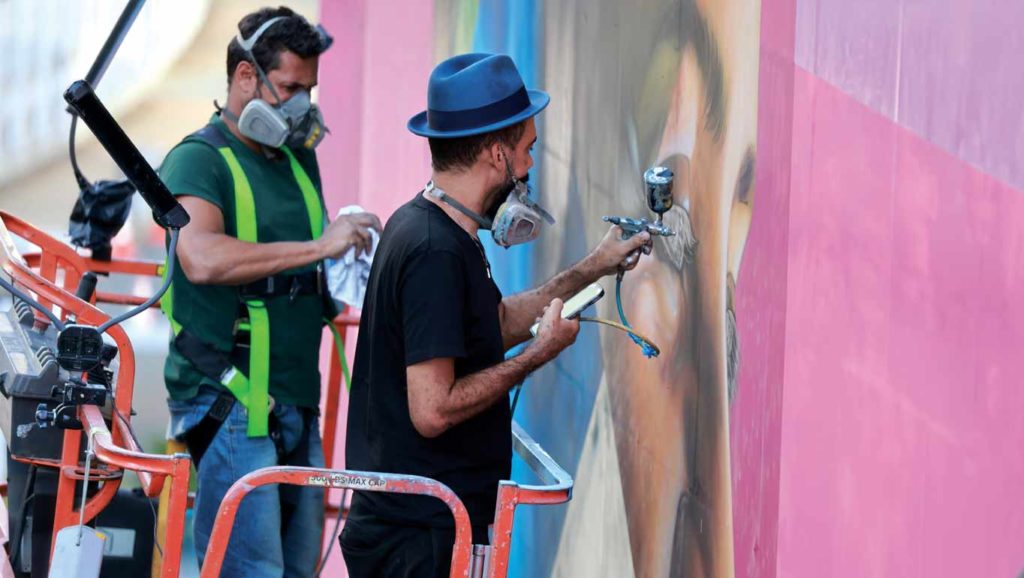 What are the main messages you seek to convey through your paintings, mainly the ones that have been displayed at the UN?
My work is intrinsically connected to my beliefs, values, and principles. Often, it has to do with situations that make me uncomfortable or upset me, something that I want to change. I use my art to inform and communicate, but also to protest. This all relates to my childhood and teenage years, as well as everything that I experienced back then. When I was young, I saw extreme violence, racism, intolerance, and even people murdered next to me. That made a profound impression on me. I thus discovered I could do something through my work. I started to use my work as an antidote, as a way of communicating.
Art, for me, is much more than painting, aesthetics, or technique. Art is about messages, symbols, and meaning. It's a way of raising awareness. Based on that, I've gone all over the world to paint murals about racial issues, violence, and intolerance,
I also wanted to pay tribute to people that have fought and continue fighting for peace, regardless of whether they're famous or not. Some of my murals highlight moments in history related to pacifist movements and also issues related to animal welfare, an important cause for me since I was a teenager. Through murals, I found a way to talk about all these things: indigenous peoples, freshwater springs, forests.
I recently did a series about refugees and migrants. I met with them and their families to speak about their stories. I have also used my work to raise awareness about hunger, wars, and conflicts. I have used my work to organize actions and raise funds to help people experiencing homelessness or in vulnerable situations. We've collected food and other resources for them.
Recently, we have created my institute, the Kobra Institute, and we need resources. This is very important. We want to construct a building, a space, to give a shot to girls and boys who, like myself, come from poor communities that have virtually no access to opportunities. There's talent out there that's just waiting for a chance. I think that, if I was able to make it and be successful through art, then they can make it too.