On Sunday, October 9th, the Four Seasons Hotel des Bergues is organizing the 14th edition of their "Run for Hope." All funds raised from the race are donated to a local non-profit association known as the Geneva League Against Cancer that helps and supports families and individuals affected by the disease.
Starting off on the exclusive Ile Rousseau, participants can join in on either the 5 km or 10 km race as well as the walk. The short distance family race offers splendid panoramic views of Lake Leman and the famous Jet d'eau. When asked why people should participate in the event, Four Seasons Hotel des Bergues General Manager, Martin Rhomberg explained, "Cancer is unfortunately a cause that relates to everyone. This run is a collective way to support research through a moment of conviviality and fun. You do not need to be an accomplished runner, you may choose to walk or run. We even see parents with their children or pushing toddlers in their stroller. The purpose is to engage everyone around a common goal: support cancer research."
Terry Fox, a 22-year-old athlete who lost his leg to osteogenic sarcoma, a rare bone cancer, made headlines in 1980 when he ran 3,339 miles (5,374 km) over 143 days across Canada to raise awareness and money for cancer research, an event known as the "Marathon of Hope." Terry planned to run across the entire country, but was sadly forced to stop sooner than anticipated on 1 September 1980 as the cancer had spread to his lungs.
During the Marathon of Hope, Terry, using a prosthetic leg, averaged a marathon a day (just over 42 km), every day. He died less than a year later after raising CAD 24 million, achieving his goal of raising one dollar for every Canadian at that time.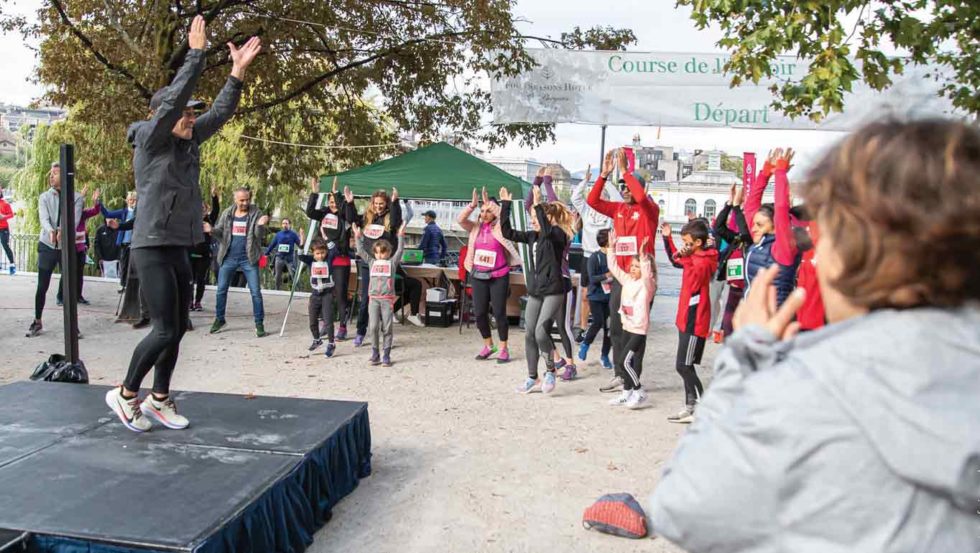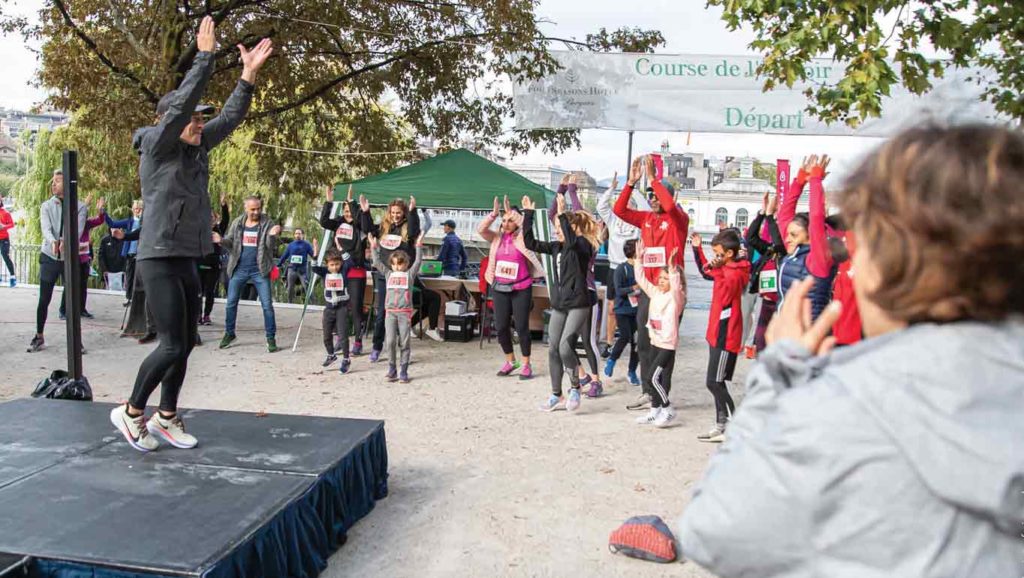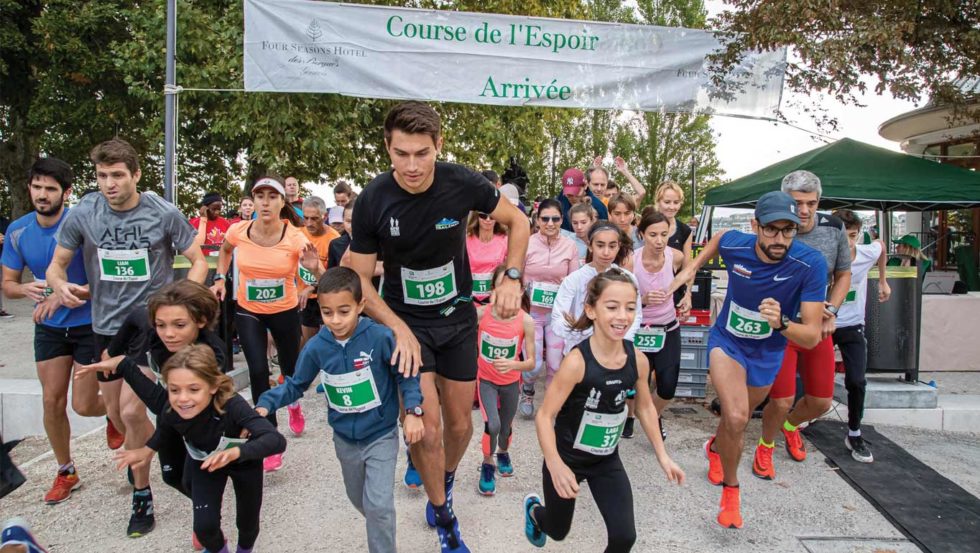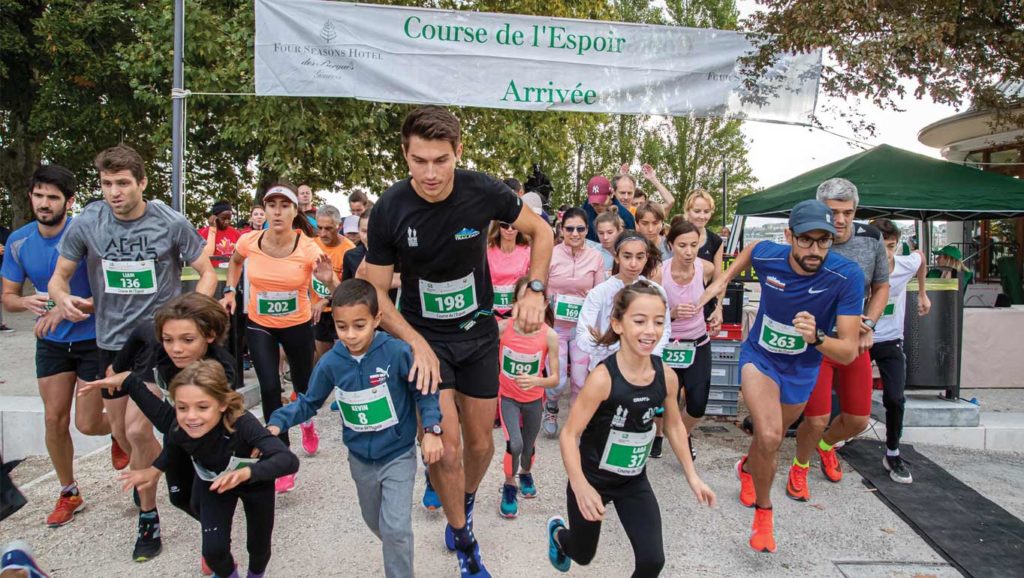 Deeply moved by the young boy's story, Four Seasons Founder and Chairman, Mr. Isadore Sharp, personally pledged to Terry's cause, writing to over 999 other Canadian executives urging them to support cancer research. Sadly, Terry succumbed to the disease the following year. Mr. Sharp and Four Seasons organized the yearly "Terry Fox Run" to preserve his memory, with the first run taking place in 1981. Each of the company's 117 hotels now hosts an annual run to raise funds for local cancer leagues. Today there are more than 9,000 annual Terry Fox Runs around the world, led and organized by volunteers. Over GBP 500 million has been raised to date.
Mr. Sharp committed that every Four Seasons Hotel would organize a Run for Hope within three years of operation. With the Four Seasons Hotel des Bergues Geneva opening in November 2005, the Run for Hope started in Geneva on 21 September 2008. Last year, the 13th edition of Run for Hope boasted almost 500 participants, all gathering to support the Geneva League Against Cancer. Since 2008, they have raised 258,000 CHF from the run and various other charity events.
The run keeps gaining momentum year on year. Mr. Rhomberg remarked the way he is moved by the solidarity around the event, both from the local community and their employees. "When we started, we only had about 100 runners and 14 years later, we reached more than 500 plus invaluable support from many of our local partners. This is quite an achievement and we do not intend to stop there! The Run for Hope is in everyone's heart at the hotel, and we regularly brainstorm with the team to come up with creative ideas to give our initiative a wider reach, whether approaching new sponsors or attracting media attention. All in the spirit of raising awareness and, of course, funds to further support this important cause." The funds collected support people affected from cancer – through the maintenance of salary, access to specific therapies not refunded by insurance, home help, meals at home, or expenses related to babysitting and childcare – as well as support for cancer research and to reinforce detection and prevention.