Here's what Mr. Duley said when I asked him to explain how his unique experiences had shaped his understanding of war-torn environments and how they are represented. "When I was thirty I switched from working as a photographer in the world of fashion and music, to documenting the impact of conflicts, because I wanted to use my skills to try and create change. I always knew a photograph wouldn't change the world, but I believed it could inspire those that could. I am simply a storyteller. I'm not a war photographer in the traditional sense, I document the realities for families and communities living in the shadow of conflict. You won't see photographs by me of soldiers, tanks or planes; instead you'll see an image of a mother feeding her baby, a father doing lessons on the floor with his children, a grandmother brushing her grandchild's hair. I want to show our shared humanity and that war could affect any one of us. Twenty years of working with this approach has given me unique insight into the lives of those affected by conflict. It's taught me that representation of vulnerable communities and communities impacted by war is often wrong as it tends to show them as passive victims and rarely gives them authorship over their own stories".
Clearly an amazing set of experiences. Yet, after having worked and subsequently been severely injured in Afghanistan, Mr. Duley also has first-hand experience of the terrible consequences of war. Here's what he said when I asked him what the driving force behind his courageous decision to return was: "on my return to Afghanistan, eighteen months after losing my legs and left arm to an improvised explosive device (IED), I visited the International Committee of the Red Cross (ICRC) limb fitting centre in Kabul. There I met a young boy called Ataqullah who had lost an arm and a leg to a landmine while walking to school. He'd been injured about the same time as me, and just a few miles from where I'd been injured. As I watched him though my camera's viewfinder trying to walk on his new prosthetic leg, I found myself crying. Why should a young boy have to go through what I go through each day….. the pain, the psychological challenges…. suffer like this simply because he was walking to school one day? When someone asks me why I went back, why I continue to go to conflict areas, I tell them about Ataqullah. Because if my work means just one child doesn't have to go through this, then my work will have been worth it. So how could I not go back? How could I not continue with my work?"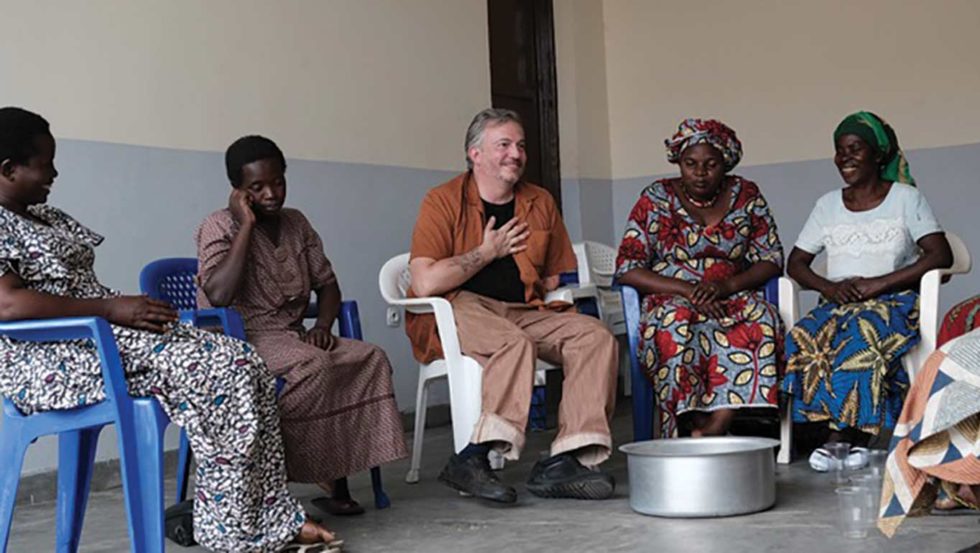 It is also clear that Giles' appointment as the first United Nations global advocate for persons with disabilities in conflict and peace building situations will give a voice to many. This was his response to being asked about what his main strategies for advocating for their rights would be: "first and foremost I see my role to represent all those injured in conflict that I have met, and continue to meet. I hate the phrase by some photographers and filmmakers – 'to give people a voice' – people have voices, my job as a storyteller is to amplify them. The UN role gives me the chance to do that. As I said to an earlier question, I am just a storyteller, and in this new role that's what I will continue to be. But if there was one agenda I'd like to pursue, it would be to build more capacity for rehabilitation, surgery, occupational therapy and prosthetic needs within the impacted countries. Often after a war, international funding starts to dry up, but for those with life changing injuries and disabilities, a peace deal does not bring an end to their needs. It's important we build internal capacity to support those with disabilities to live full lives, throughout their lives".
Finally we come to the conflict in Ukraine, which has seen countless atrocities and attacks on human rights take place. Considering his own involvement in the country via the Legacy of War Foundation, I asked Duley what did he specifically aim to achieve for Ukraine in his new UN role. Here was what he had to say: "my organization: Legacy of War Foundation, has been working in Ukraine to support civil society organizations, especially those working with disability. There are some incredible disability- led organizations in Ukraine and I hope to amplify their work. Within the UN I also see my position and experiences in the country help me to connect relevant international organizations and local partners; so in many ways playing the role of facilitator."
Giles Duley is more than prepared for the role at hand, and importantly, his voice will give representation to thousands who have been caught up in conflict. Often these are the voices are the ones who get forgotten as countries carve up territory and resources on a map, now they have a champion.