As Corneille once wrote: "For souls nobly born, valor doesn't await the passing of years". This is what comes to mind when you talk to the Special Representative of the Secretary-General on Violence Against Children (VAC), Najat Maalla M'jid. A pediatrician by profession, she was only 12 when she started advocating for children's rights and against child labor in her home country, Morocco. Back then, working with street children, she fought hard to make politicians consider children as vulnerable and in need of protection, rather than as delinquents. The experience she later acquired managing up to 13 mother and child hospitals while volunteering for children in institutions, allowed her to gain precious experience and to realize that listening to children is key. They need to be considered as actors and not only as recipients of services.
From 2008 to 2014, she was UN Special Rapporteur on the thematic issue of the sale and sexual exploitation of children, before starting to work as an expert in child protection. She later became a member of the Advisory Board on zero tolerance for sexual abuse and exploitation within the UN. In 2019, she was appointed SRSG on VAC. When it comes to her current position and mandate, they stem from the 2006 Global Study on Violence Against Children led by Sergio Pinheiro and aim to prevent and eliminate all forms of violence against children, while implementing the results of the aforementioned study.
There are many drivers of VAC: poverty, hunger, discrimination, conflicts, social disparities, unemployment, climate change, and many more. To tackle this vicious cycle, it requires all stakeholders in the education, health, social and financial sectors, under an all-of-UN approach. As SRSG M'jid puts it: "Child protection and wellbeing go beyond the social sector, and it isn't only about SDG 16.2, it interlinks with all SDGs". This is why, together with UN sister agencies, she works to ensure a continuum of action and to strengthen country systems at all levels using Voluntary National Reviews (VNRs) to mobilize states and key stakeholders to prevent and protect children from violence.
With conflicts, violence, and natural disasters on the rise, her office recently published an advocacy brief on 'Enhanced Protection of Children on the Move.' More than 42 million children are displaced worldwide, many are deprived of liberty, face discrimination, exploitation, xenophobia, and pre-existing harmful practices. Children must be protected regardless of their status. As we have seen with the war in Ukraine, Europe lacks child protection systems, cross-border coordination, and counter-trafficking initiatives. Now more than ever, we need to strengthen action in times of crisis and make sure children are truly protected.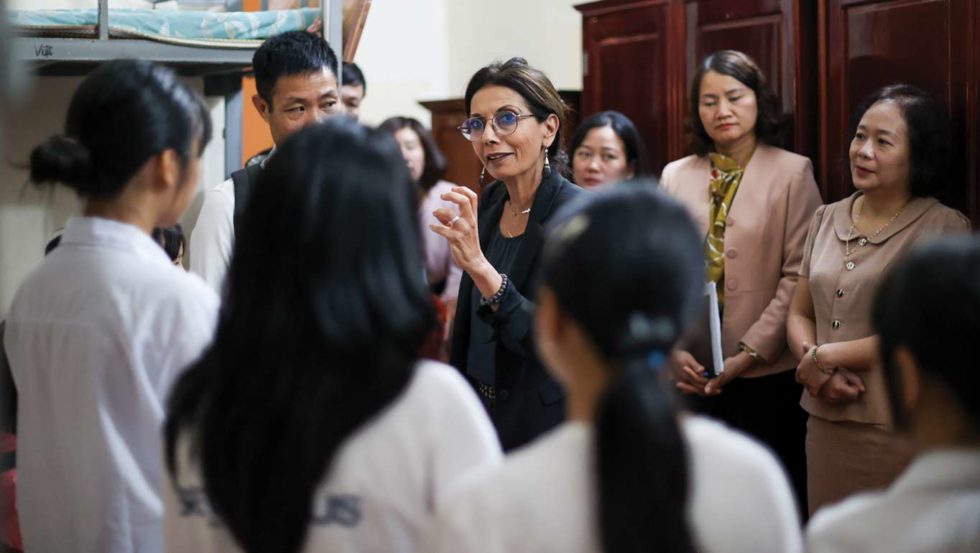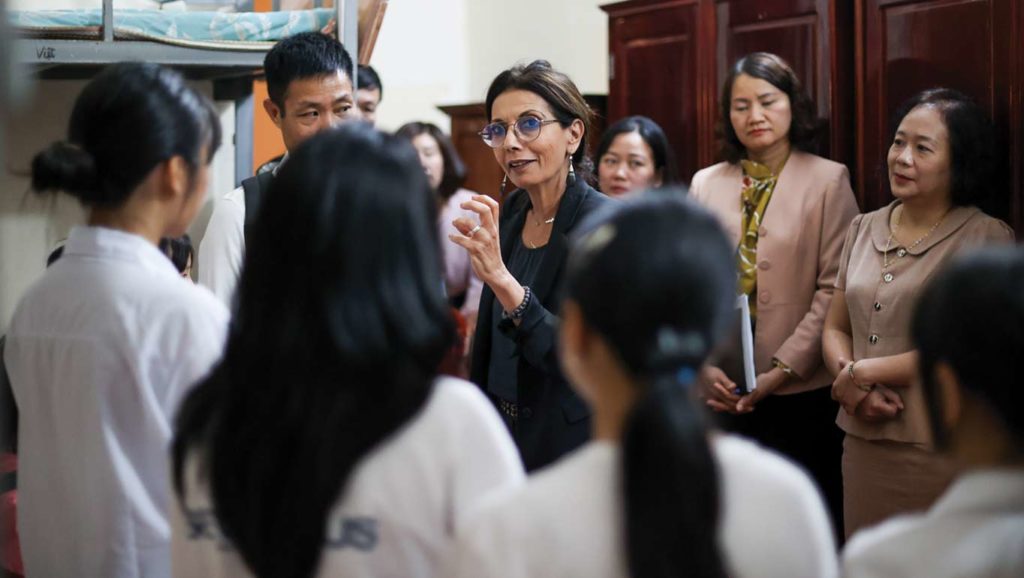 Her small 11-person strong office moves heaven and earth to enact change, fighting on all fronts to make sure children are taken into account, heard and protected. It is a delicate balance to be struck. "The children I have met over my career, in camps, on the streets, in institutions, everywhere, have proven to be highly resourceful, they take initiatives and need to be listened to, all of them, from street children to straight-A children", advocates SRSG M'jid.
As a mother myself, I cannot help asking Mrs. M'jid about what children are exposed to online in our increasingly digital world. "What is happening online is a huge problem", says the SRSG. Children are exposed to sexual abuse, cyberbullying (according to the World Health Organization, 15% of children worldwide are victims, and that is a conservative figure), hate speech, promotion of suicide, enrollment in armed groups, criminal gangs, violent extremist groups, harmful content, gambling, identity theft, use of their image, etc. "I have worked with Interpol, I have seen the most abominable images of children, babies even, abused", says the SRSG.
Part of the solution lies in working with ICT companies to make them accountable. We must use social media and the ICT sector to make sure they provide guidance and responsible services, while allowing children to express themselves and have access to safe information. States should also be involved and regulate more, which is an uphill battle. Obviously, parents also have a major role to play; they should think twice before posting pictures of their children which are regularly copied and used by pedophile networks, supervise the way their children use online tools, and resist the temptation to use screens as a convenient babysitter to keep them quiet. "As a pediatrician, I can tell you that screen exposure is highly detrimental, they are addictive and cause social isolation", says the SRSG. All over the world, a whole-of-society approach is needed to make sure we act now.
Unfortunately, we are lagging behind. The solutions so far aren't enough and it is never too late to do more. "When you meet children with the light still behind their eyes, not all hope is lost. When that light disappears, it is too late. I have seen far too many children that have been mentally crushed and I just cannot accept it".