A conversation with Aviel Cahn, General Director of the Grand Théâtre de Genève
It is an uncertain exercise, but definitely worth it. Do you have an idea how the pandemic has affected the theatre? What about how the forecast for 2021 looks like? Several UN Staff are regulars to this unique venue in Geneva – the most important theatre in the country.
During 2020, while many art-related venues in the city were able to adapt by employing the use of masks, others had to close. The greatest frustration of Cahn was having to cancel plays that were not only very costly but for which there had been a lot of work for several months. However, and fortunately, some of the plays could be postponed for future seasons.
About the challenges
On the one hand, having to continue and enforce health and safety rules for the artistic, technical and administrative teams. On the other hand, by making a great effort to ensure comfort and confidence in welcoming the recurring audience. According to him, "The biggest problem in this context arises from the constant change of rules, which does not always allow for predictability in managing sales and production". And he added, "Many of the plays planned for 2021 have been cancelled and – unfortunately – there is no certainty for the future, which demands a daily analysis of the situation".
It is publicly known. The Grand Théâtre de Genève is the most important lyrical and choreographic production stage in Switzerland, with plays that are recognized and applauded standing up worldwide. It is not led by a dancer, a singer, or a musician, but by a PhD in Law who does not consider himself an exception to the rule, but accepts that there are others like him; and confesses that "leading an institution as complex as an opera house requires logical and practical thinking to frame the madness of the artists". This answer was brilliant, and it made me wonder if a law firm would dare to hire a lawyer who is also a ballet dancer.
The ballet of the Grand Théâtre is known all over the world. It was therefore interesting to learn more about the goal of management to foster creativity and thus be more competitive globally with other theatres. The focus is on the choreographers, which leads to the dancers feeling comfortable and – thus – adapting their talent to those conducting. Besides, the direction of this theatre is not inclined to produce classical plays that the world already knows, but to be able to show the audience a contemporary language through these choreographers, who – according to Cahn – at this moment would be figures like Teresa de Keersmaeker, Benjamin Millepied or Sidi Larbi Cherkaoui.
About talented refugees
As the recruitment of artistic talent has no borders, it was intriguing to find out if artists could be recruited – for example – in refugee camps; and if the federal or cantonal government would have a program to encourage such an initiative. The answer was negative. The public sector does not support the repatriation of these people in Switzerland. "Talent recruitment is an artistic process and not a political one", Cahn affirmed. "However, the Grand Théâtre is trying to work with people who have an immigrant background to connect them with pedagogical projects based on their productions. We are constantly seeking to show and discuss these issues in the programming – for example – with the opera that was planned for March 2020 on the routes of the refugees heading to Switzerland", he added.
Art can be used – also – to pass on collateral, subliminal and even political messages. And it can also be used to deliver messages of social awareness, such as equality, inclusion, disability, and war. Cahn shared that "Art must play a social role, even a political one. It must be a driving force in the evolution of our society and humanity as a whole".
Before it ends
The last question was about the most important challenge as the Director of Grand Théâtre de Genève. The answer was very brief but powerful and unexpected: "To rejuvenate and diversify the audience, which above all must not be an inaccessible temple reserved for an elite".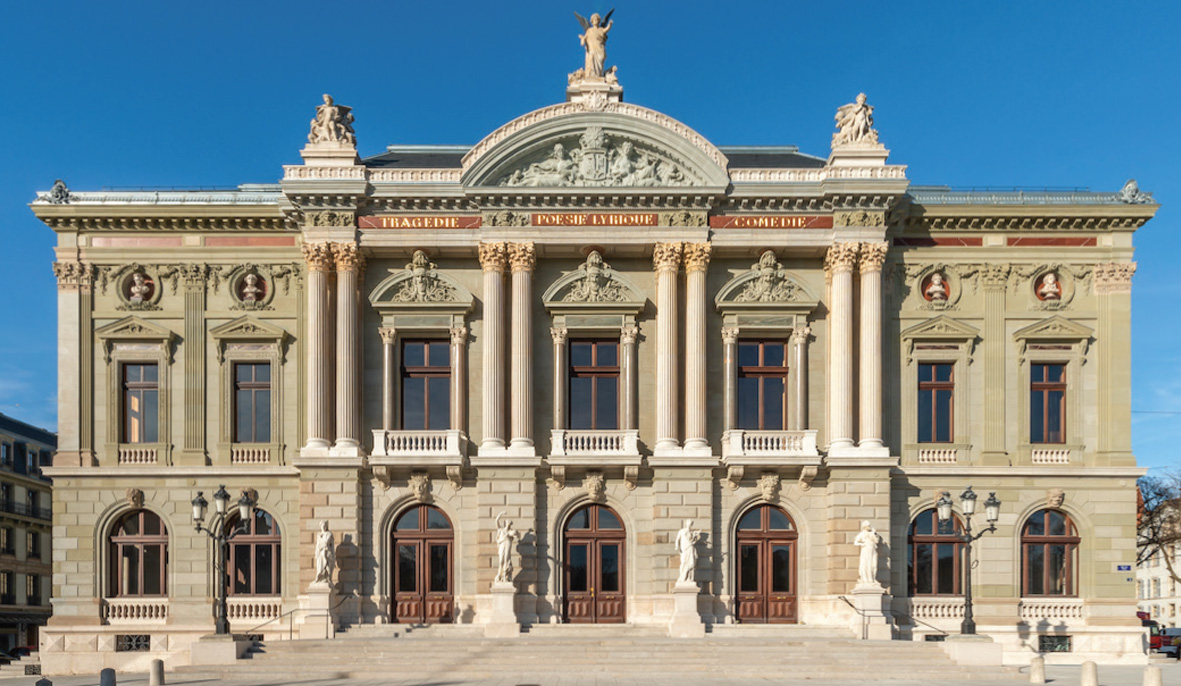 The Grand Théâtre de Genève is the most important lyrical and choreographic production stage in Switzerland.