Beyond its bucolic and soothing pleasures, urban agriculture is an answer to the many pressures caused by growing worldwide urbanization. On an international scale, over half the human population now lives in cities. In the 1900s, urban dwelling accounted for only one tenth of the population. With 10% growth planned for the next decade, human population looks set to reach 8.5 billion. This demographic explosion will result in an increase within the urban population that should reach 5 billion.
For the last 20 years, urban agriculture has been on a roll. Its popular support demonstrates a need to reconnect with nature and have more social connections. Many political parties have come to the conclusion that urban agriculture is the ideal solution to answer the needs of citizens, regulate urban demographic growth and develop sustainable cities.
Besides its nutritional aspect, this pleasurable and highly convivial activity has many other benefits, which include inner-city greening, reconnecting with nature, creating bonds between inhabitants, education and prevention of floods. It refreshes our cities and boosts environmental health and awareness.
Urban agriculture is a solution to the many urgent problems that countries must address by 2030 if they are to achieve the United Nation's sustainable development goals. By stimulating and developing this form of agriculture, it is possible to reach several targets such as the creation of sustainable cities and communities, enable us to consume and produce in a more responsible manner and fight against climate change at the same time. So many benefits that result from a simple solution!
According to Eric, who is an urban gardener in Eaux-Vives, "the garden creates a social link, especially in large complexes of buildings where people meet but don't actually speak to each other." And for Léa, an urban gardener in Pâquis, showing children how a tomato grows is a "fulfilling experience. If we want to fight against climate change and recreate bonds between urban inhabitants and nature, we have to multiply and consolidate initiatives like these."
Many cities across the world have already integrated such moves. The Canton of Geneva is working towards the creation of a sustainable region. A clear indication of this is the growing amount of vegetation in the city. This includes an increasing number of urban vegetable patches on the rooftops of buildings and ground floors, as well as all kinds of other "green" initiatives from the citizens themselves and supported by local associations such as Genève Cultive.
The green scene is bubbling with energy. The Genève Cultive association is currently involved in over 150 urban agricultural projects throughout the Canton and it plans to expand its initiatives to enhance the well-being of citizens and make our cities more resilient, more social and more inclusive. Its dream is to see an increasing number of constructions hosting urban vegetable patches on their roofs to compensate for the lack of space on the ground, which will in turn provide areas where inhabitants can socialize with one another.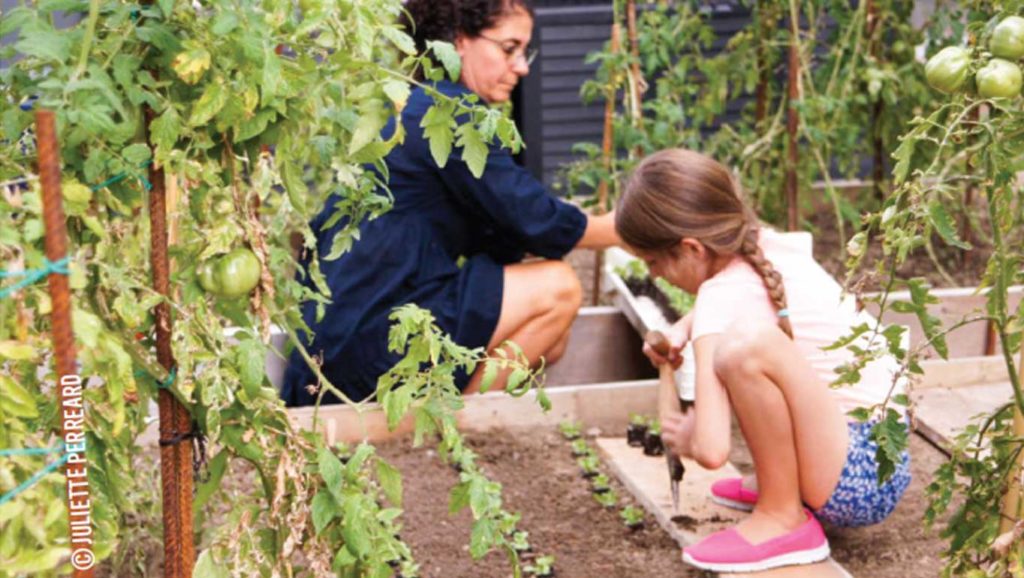 The Genève Cultive association is also launching the creation of an agro-ecological urban farm, spread over an area of approximately 3,000 square metres in Geneva-Nations, made available by the owner of the plot, the Steiner Investment Foundation. This opportunity has been included in the urbanism transition plan for a period of four years, during which it seeks to create a dynamic area for local life.
This agro-ecological urban micro farm represents a new approach towards agriculture. It seeks to test the viability of the model and explore the possibility of integrating it into the heart of a long-term real estate project. This project is designed to be exemplary in terms of sustainable development and ecological transition.
Located in the United Nations area, close to the International Labour Organization, the urban farm is designed to be a true place of social exchange where people can buy their seasonal vegetables, discover the basics of gardening and become informed on the benefits of healthy and local food.
With the support of the Steiner Investment Foundation, the Genève Cultive association has started a crowdfunding campaign so that this urban food experimental space can come to life and contribute to the sustainable development of the city.
More information on this future project at genevecultive.ch