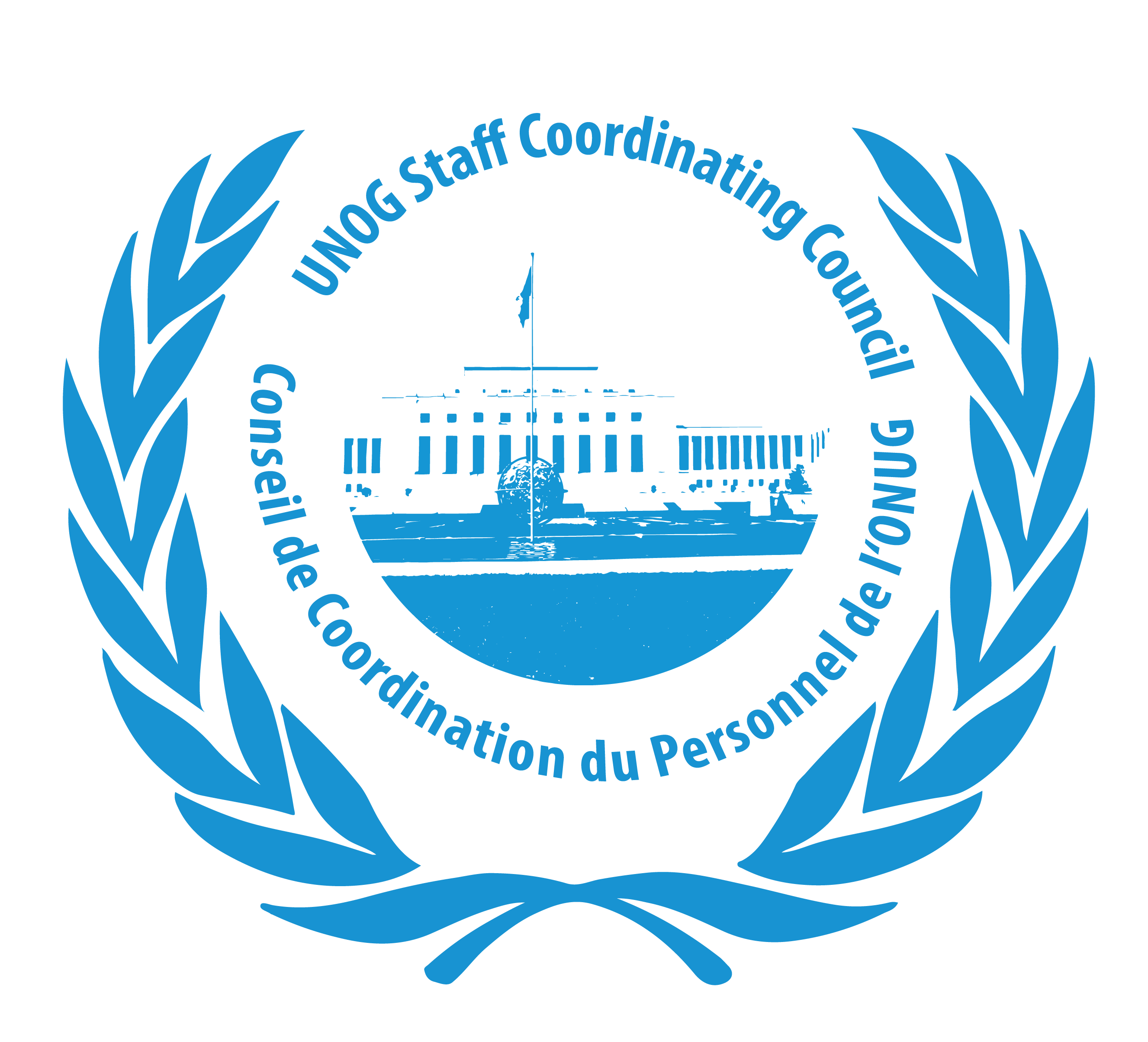 Our Town Hall on 7 May
A total of 850 staff members attended our first ever virtual Town Hall.  We raised several issues of importance, namely:
UN plans for return to office 
We have been in close and continuous consultation with UNOG Administration on the safe return to the campus. Due to major constraints in logistics, including the requirements for safe distancing in lifts, shared offices, cafeterias, corridors, plus other issues such as  border crossing with France, and most importantly the need to protect vulnerable staff members, we estimate that the current mode of teleworking will remain for most people until late summer.  The plan is being finalized, but we have been making sure all your concerns are being addressed as we move forward.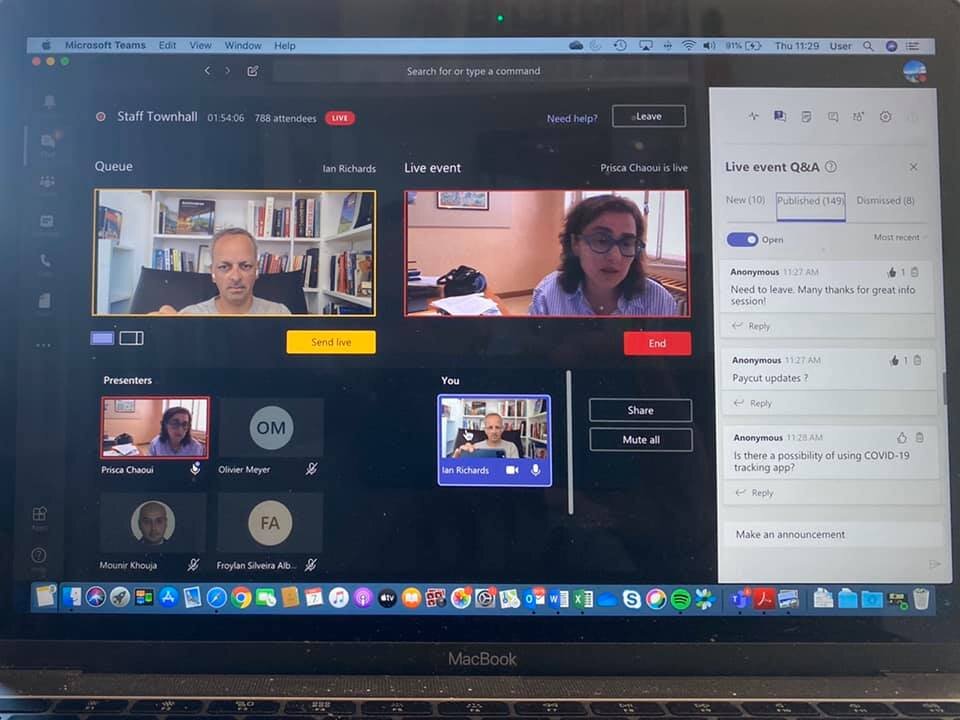 Telecommuting post-COVID-19 
In view of the change of attitude towards teleworking given the current experience, we warned of the potential risk should long-term telecommuting become a new norm.  Long-term telecommuting will pose a real threat to the organization's capability to carry out fully its functions and could risk the outsourcing of jobs in certain sectors. 
Financial situation and regular budget liquidity freeze 
At the Council's request, the Controller held a Town hall on the liquidity crisis on 21 April. The liquidity crisis is expected to last at least until October this year. A freeze is being imposed on recruitment, promotion and lateral movements. We fear that it could lead to more recruitments from extra-budgetary resources and to more precarious types of contracts.   It could also lead to an increased workload for staff, which in turn will have an impact on your well-being.  We will continue to monitor closely the situation.
Delegation of Authority 
We shared with staff our concerns on the issue of delegation of authority, particularly in light of the new instruction allowing Heads of entities to decide on contract termination for permanent and continuing contracts in the event of any downsizing exercise.  We are particularly concerned by this latest development, as we fear it could lead to favouritism and abuse as it effectively removes all previous checks and balances.  We intend to raise this at the upcoming SMC meeting.
Pension Fund 
We arranged for an information session on 29 April with the new Acting Representative of the Secretary-General to brief staff on the Fund's investments. We are pleased that the new leadership appears to be more open to working in a more transparent manner but from our position in the pension board, we will continue to follow the situation closely. 
Strategic Heritage Plan 
We have been in close contact with the DG to raise our continuing concerns about the layout of the new H building, especially in light of the growing body of literature which provides evidence on the link between open space, hot desking and the spread of contagious and viral diseases.  We are now in discussions on management as to what changes can be made at this late stage to provide a more safer work environment. 
Temporary staff 
We received confirmation that for those temporary staff whose contracts are ending, they will be able to avail themselves of medical insurance for a further 3 months as provided for in UNSMIS rules.   The Carte de légitimation grace period has been exceptionally extended upon expiration of contract from 1 to 3 months. 
Support us, Support UN Today
We are delighted to announce that our new magazine is attracting more and more readers. The latest statistics for the period between 25 March and 23 April shows that the website has received over 1,000 visitors in one day alone. In the meantime, we have been very active on various other issues, despite all the difficulties encountered by all of us teleworking from various different locations.
Equal Pay Campaign
Our case for equal pay is still pending in the UNDT in Nairobi. We will closely monitor the developments and update you once we have further news.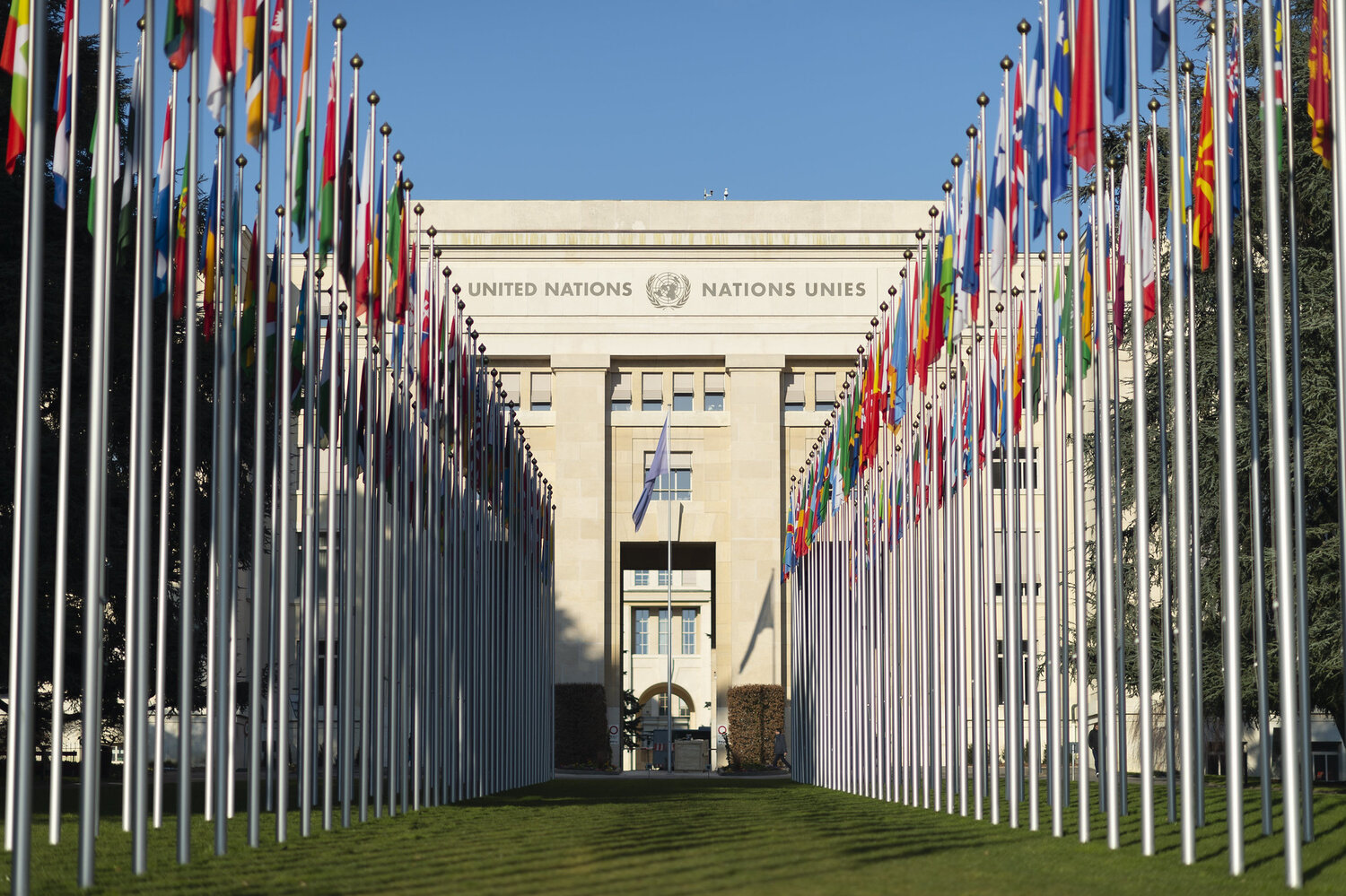 Donation in solidarity with the local Geneva community
We thank you for your active response to our call to help the vulnerable migrant workers and their families. As of the time of writing, We received the amount of CHF 30'216.05 to which the SCC added CHF 10'000.—. The collected amount was transferred to the local food bank Partage
UN beach and bike repair
On a more positive note, we are pleased to announce the reopening of the UN beach as of 15 May, respecting all the recommended distances and new hygiene requirements (details are on the UN Port Website http://www.unport.org).
And finally, we are also planning to organize a workshop late summer on bike repair and maintenance to assist those of you wanting to avoid public transport and who are considering cycling to work..
For more information on any of these topics or other ones, please consult our website : https://www.staffcoordinatingcouncil.org
You can also share your thoughts, ideas or comments at : unogstaffcouncil@un.org