The team from the Türkiye-based United Nations Monitoring Mechanism was at the centre of the destruction. This meant that the very operation created to help the people of north-west Syria was itself a disaster zone, with colleagues dead and injured. Roads leading to the UN trans-shipment hub — where UN aid is loaded onto trucks, verified and monitored before crossing to Syria — were impassable.
OCHA staff in both countries were among the millions of people affected. Jean-Luc Tonglet, who heads the Monitoring Mechanism, and his team were among those people. Here, he describes his experience of the earthquakes and the hours that followed.
I've worked in Hatay since 2014, when the UN began using the Bab al-Hawa border crossing to send humanitarian assistance into Syria. Colleagues and partners are like an extended family to me.
We were in Antakya the night before the earthquakes, as we had an early morning operation at the border crossing on 6 February. I was awake when the bed and the furniture in my hotel room started shaking gently. But in seconds, the shake became violent. Plaster was falling from the ceiling, and it looked like the walls were undulating.
A terrible rumble was prevailing, thunderous, overwhelming, coming from all sides. I still hear the rumble — it's a dark, muffled sound that comes from the floor. I felt as if I was in a box and an invisible hand was shaking it violently. Would it be that my last moment had arrived? No, it can't be. I will get through this. It will be ok.
I opened my bedroom door. Dust was flying in the corridor. My next-door neighbour advised me to stay put in the doorframe. I was astonished by his composure, as if he had repeated the scene dozens of times. The shake went on, relentlessly. Then it stopped.
I grabbed a blanket and a jacket from the bed and ran into the corridor. I met colleagues in the stairway. We were thunderstruck, searching for one another. There was compassion, solidarity and a sense of sacrifice among colleagues. While everything was falling, we did not want to leave anyone behind. This was a very intense moment.
We eventually descended the stairs, many of us barefoot, wobbling among the debris. The hotel's main door was blocked; its front façade had collapsed, crushing a vehicle parked in front of the door. We evacuated the building from the side and moved to an assembly point in the middle of the street.
It was cold, dark and raining heavily outside. Cold blades of rain were touching my skin. My feet were frozen. Neighbouring buildings were impossible to recognize; they looked like a pile of grinded stones, shredded wooden beams and metal.
We were worried about colleagues staying in neighbouring hotels. Virtually all roads were blocked with piles of debris, as the buildings on all sides had collapsed. There were no phone networks, and our desperate calls were systematically failing. For safety, we moved to the gardens of the provincial government, further away from our hotel, and we were soon joined by survivors from the neighbourhood. People, I don't know who, came with shoes, clothes and blankets and distributed them to us. Where were these people coming from? They were affected by the earthquake, like us. How did they find the resources to start helping people minutes after the earthquake? They were like angels.
Our concerns regarding our colleagues in the other hotels were growing. A couple of us volunteered to find a way to where they were staying. Meanwhile, the rain was intensifying, we were shivering.
The news eventually came that some of our missing colleagues were safe. We felt some sense of relief. Their hotels had partially collapsed, but they managed to get out. They were at another assembly point, together with colleagues from other UN agencies.
We walked to that point to be all together. It was a difficult walk along the Orontes River. Most buildings had collapsed on the road. We had to walk in the debris, stepping over various obstacles, mindful that people were very likely trapped underneath. There was nothing we could do for them with our bare hands. There is no word to describe what we were feeling.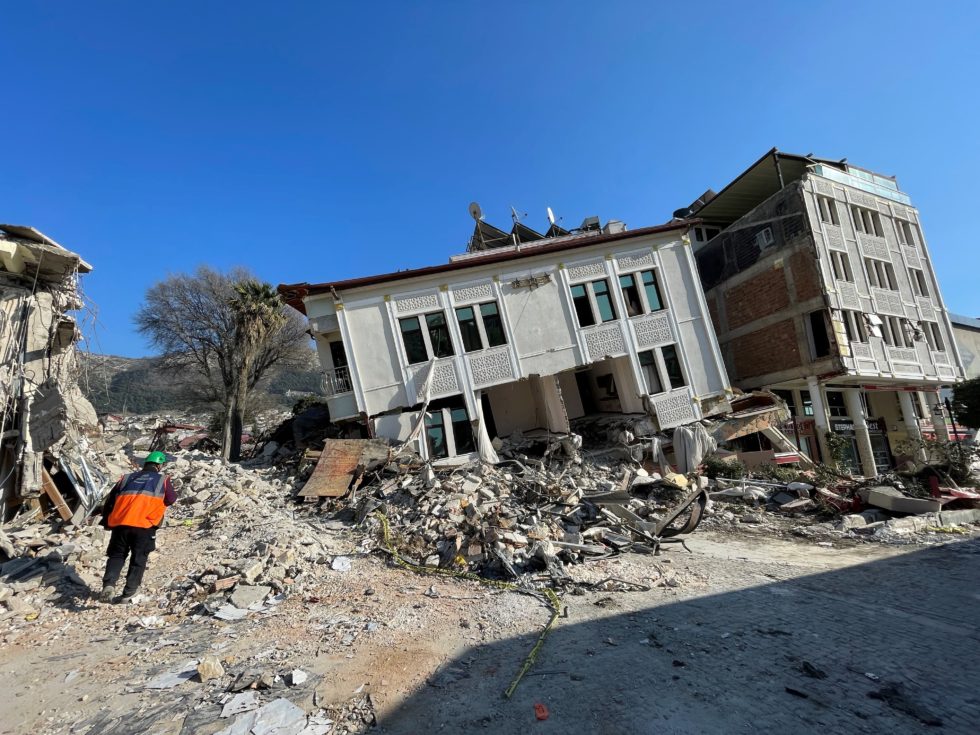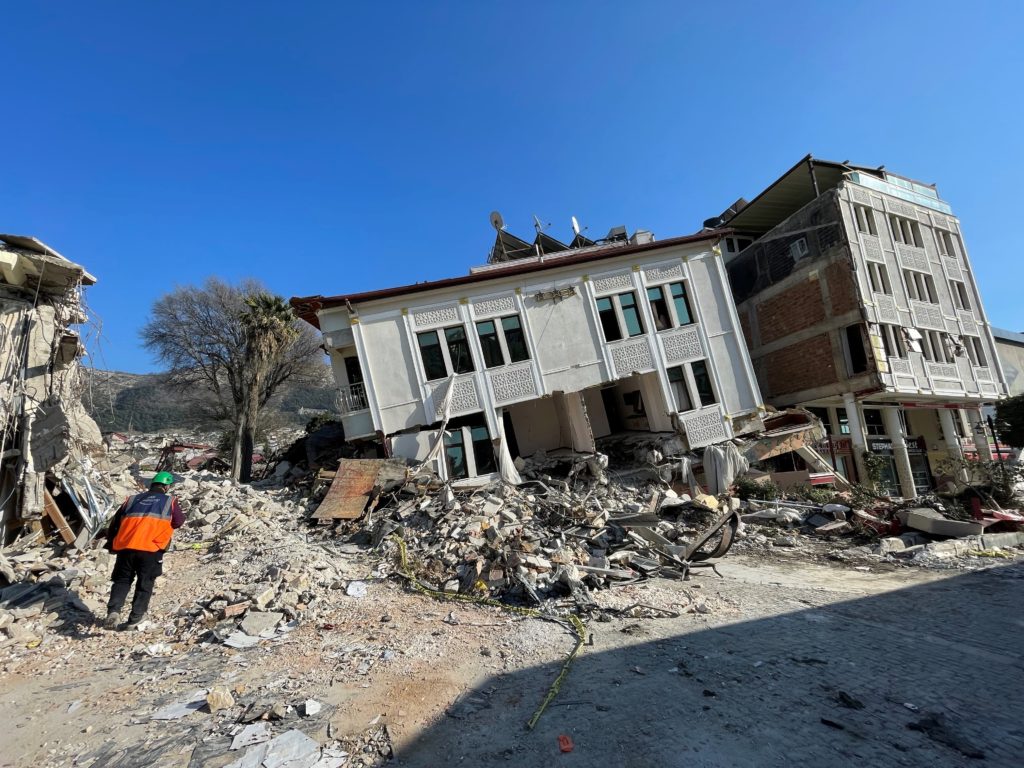 We eventually met our colleagues near the main bridge in the city centre. We were so happy to see them. That was a blessing. But one of our colleagues, Kurşat, was missing, as well as other colleagues from our sister agencies.
A colleague and I walked to Kurşat's hotel, which was further away. I will never forget the scene. Survivors were gathering from place to place along the way, lighting fires and trying to protect themselves from the rain. We were shocked when we saw Kurşat's hotel; the building and neighbouring ones had completely collapsed and were reduced to piles of debris. It was even difficult to recall where the hotel was exactly.
We called Kurşat several times, without success. Some people were shouting for help from the top of the rubble. It was still dark and there was nothing we could do at that time. We returned to the group.
In the meantime, our drivers had managed to retrieve some of our undamaged vehicles. It was a great relief, as we were drenched with rain, and the vehicles offered temporary refuge and heat. Colleagues were coming up with ideas and recommendations on the next course of action. The leadership emanating from the team was encouraging. Colleagues revealed their true potential on that day.
Then the day broke, and we could see the full extent of the damage. It was shocking. There were barely any buildings still standing around us. Places that were so lively were completely destroyed. Pictures of Hiroshima after the nuclear explosion immediately came to my mind.
After coordinating the evacuation of part of the team back to Gaziantep, I returned with two colleagues to Kurşat's hotel, to see if we could find him. We did not want to leave him behind. Someone told us a few survivors had been taken to a hospital and Kurşat was among them.
We went searching for him in the Government hospital. Thousands of injured people and their families were flocking there. It felt like entering Dante's hell. There was not enough space for all the injured. They were laying down outside in the freezing rain. Staff were completely overwhelmed. Bodies were moved next to the living. It was a nightmare. And Kurşat was not there. We did not know where he was.
But as we were about to leave the hospital, I received a call from Kurşat's family in Gaziantep. He had managed to call them. He had received first aid in an emergency unit and had just been released.
We ended up finding him near the Stadium. His back was very painful and his arm had an open wound, fixed in the quickest way possible. It looked like a war wound. That scar will be there for good. His hotel room collapsed with him inside, and he was dragged down with the outside walls, sliding for two floors and ending up covered by rubble. While the tremors were going on, someone helped him to safety. It is a miracle that he is alive.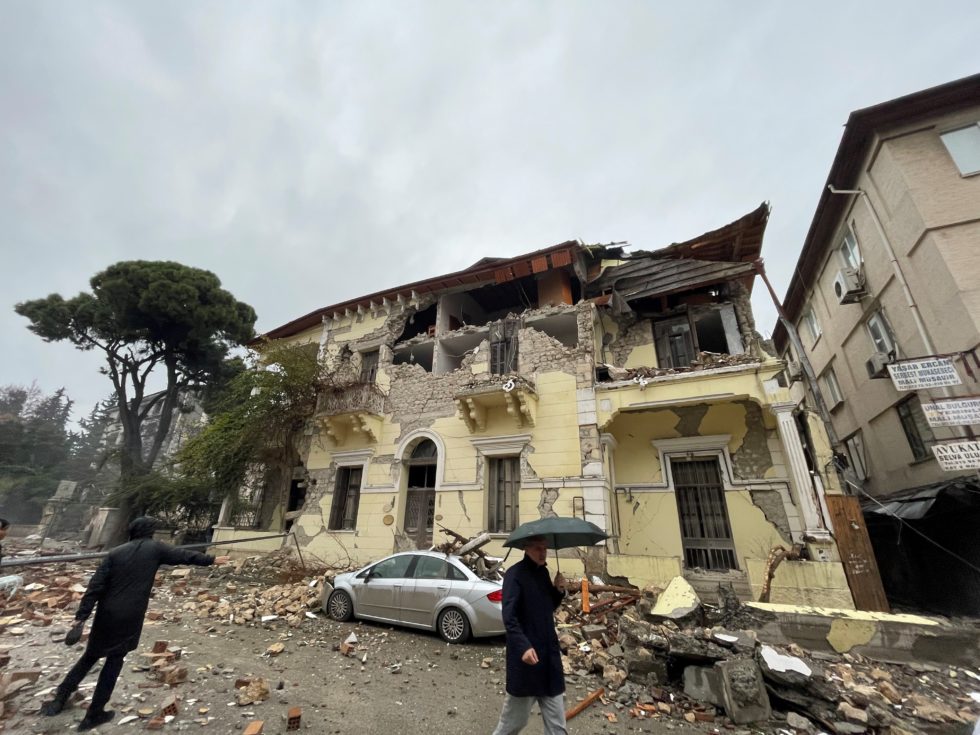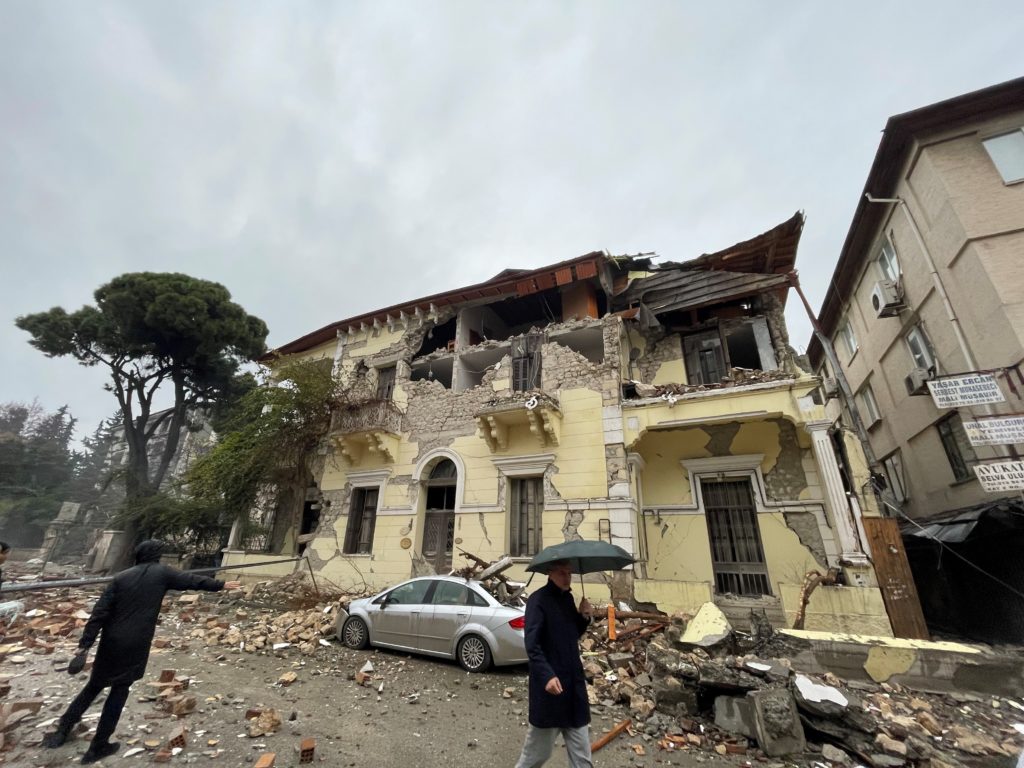 The night was approaching, and we needed to return to Gaziantep. We were concerned about the fate of several UN colleagues, who were living in Antakya. One of them was Levent, a colleague from the Logistics Cluster, who was managing the UN transshipment hub. Levent was very close to us. We learned afterwards that he passed away when his residence collapsed. Many staff from Turkish customs were also missing.
While driving to Gaziantep, we saw much damage along the way. Stretches of road were impassable, and we had to find alternate ways. It broke my heart to see so much destruction. I saw the people working so hard, and the region had been flourishing. The earthquakes are a huge setback for Antakya and its region.
Just days after the earthquakes, Jean-Luc and his team returned to Hatay to facilitate the passage of UN assistance through Bab al-Hawa. By 9 February, three days after the earthquakes, the UN resumed its cross-border aid operation. On that day, the UN team came together to remember Levent and the colleagues lost in the earthquakes. Since then, close to 1,000 trucks have crossed into north-west Syria carrying aid provided by seven UN agencies.