Geneva hosts numerous organisations and NGOS at the forefront of worldwide sustainability issues, and the municipality is currently developing a detailed climate strategy in order to reduce its emissions by 60% in 2030 and achieve carbon neutrality by 2050.This will include structural investments, such as renovating hundreds of municipal buildings, building additional bike lanes, and planting trees.
According to Alfonso Gomez, Executive Councillor of the City of Geneva, "the current pandemic context should not overshadow the unprecedented climate crisis we are experiencing. Today, our objective is twofold: we must drastically reduce our greenhouse gas emissions, but also implement measures to adapt to climate change."
But at a personal level, how can we enjoy living in Geneva while reducing our environmental footprint, and which lifestyle choices really make a difference? The City of Geneva is currently launching a campaign for the promotion of habits with significant potential for reducing our emissions:
• Avoiding overheating
• Eating more plant-based food
• Choosing low-carbon daily mobility
• Traveling on land, by train
• Repairing and sharing
This article will comment on each of these choices. More information is available on the city website geneve.ch/climat and current events are posted on the "Genève, ville durable" Facebook page.
Avoiding overheating
Heating represents an important part of Geneva's carbon footprint. While long-term plans include building renovation to achieve 100% renewable heating, many old buildings in Geneva still use oil or gas. Each additional degree uses 7% more energy, so much fuel can be gained by turning down the thermostat, from 22°C to 20°C for instance, and it is also healthier, especially in bedrooms. Before cranking up the heat, try wearing a cozy sweater, or drinking hot tea!
Eating more plant-based food
The production of meat has a high carbon footprint. Currently, Swiss average meat consumption is 1,2 kg per person per week, whereas health and climate-based recommendations are around 300g. This is why Geneva's school restaurants now serve more vegetarian meals. It is also important to choose seasonal food, and the city website can help you discover local producers: geneve.ch/consommerlocal. If you wish to grow your own produce, you might find a project in your neighborhood via genevecultive.ch.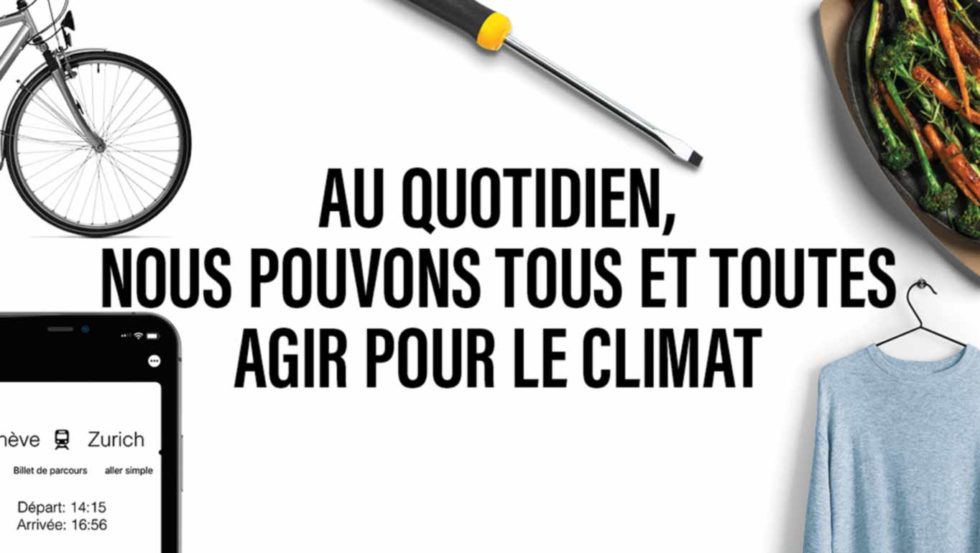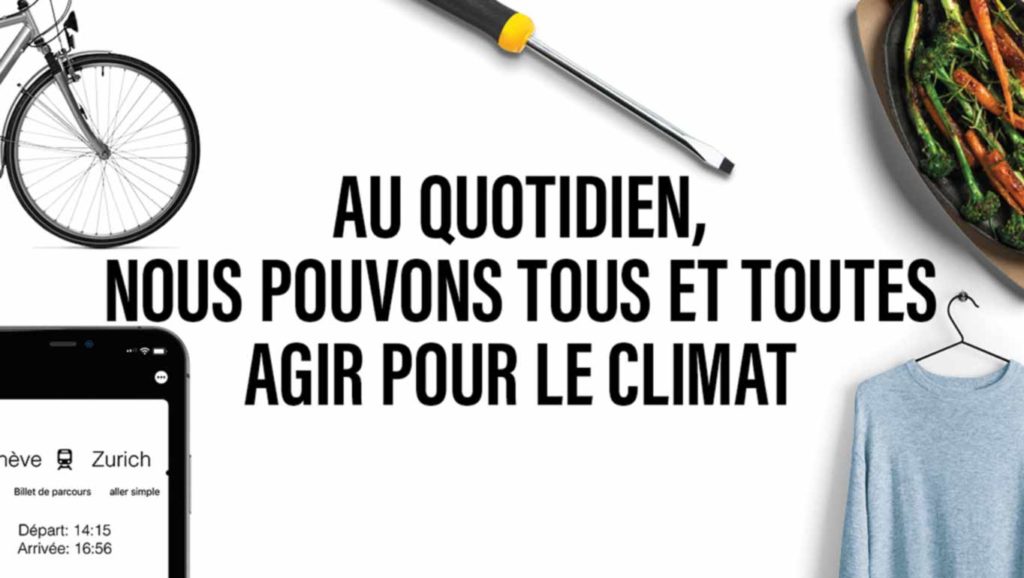 Choosing low-carbon daily mobility
Car commuting has a high climate impact, so it is important to seek alternatives such as cycling or public transportation. Recent local developments for cyclists include better bike paths around the lake, and the bikesharing system donkey.bike is now available. You can also borrow cargobikes via carvelo2go.ch. The train network lemanexpress.ch, which was inaugurated just before the pandemic, is now fully functional and links Geneva with neighbouring Vaud and France.
Traveling on land, if possible by train
Air flight weighs heavily on our carbon footprints and Swiss residents tend to fly twice as much as in neighboring countries. On each occasion, it is important to consider alternatives: professionally, videoconferences should be chosen whenever possible. At a personal level, local staycations or regional holidays should be considered, using Europe's excellent train connections and Geneva's varied summer activities. While personal constraints sometimes make flying inevitable, it may be possible to limit flight frequency or minimise the number of separate flight legs.
Repairing and sharing
Citizens of rich nations like Switzerland buy far too much new stuff! Clothes, electronics, furniture…often cheaply made and quickly discarded, adding to mountains of waste. In addition to the social impact of poor working conditions, the climate impact of buying new objects is significant. Therefore, the City of Geneva promotes the empowerment of its residents to repair, re-use or share things. The recently opened MACO (lamaco.ch) is a collaborative makerspace where, for example, you can borrow tools or cooking equipment, exchange clothes, repair your bike or make a new coffee table using secondhand materials. And, if you prefer expert repairs, you can find qualified artisans on ge-repare.ch
Altogether, Geneva has a rich ecosystem of associations and businesses which can help us make sustainable choices, many of which are showcased on the municipal website. Together, at the personal, local, regional and international levels, we can make the necessary changes for our planet to be livable in 2050. If you have any questions or comments on the article, feel free to contact agenda21@ville-ge.ch