She shares with us her personal story and her career path
Please tell us briefly about your career, especially why you joined the diplomatic service and how you were appointed to your current position at the UN in Geneva.
International Law has always been my passion. I specialized in this field and soon realized that the Foreign Service of my country was the right place to build a career based on my specialization. When the opportunity to join the Mexican Foreign Service arose, I took it. I successfully participated in the national competitive exam held in 1992 and started my career within the Ministry of Foreign Affairs of Mexico (MFA) as of that year.
Most of my 28 years in the MFA have been devoted to multilateral and legal issues. I served at the missions of Mexico before the UN in New York and in Vienna, and in Mexico City, at the legal and multilateral departments of the Ministry. I was thrilled when proposed as Permanent Representative of Mexico in Geneva in 2017, and when the Mexican Senate ratified my appointment, I felt extremely honored.
What are the main national priorities that you defend as the Permanent Representative of Mexico at the UN and other international organizations in Geneva?
Mexico is a country that strongly believes in multilateralism and it is convinced that dialogue and cooperation are key to solving common challenges.
Our work at multilateral fora aims at fostering understanding, promoting respect for international law, including the international law of human rights, and support for sustainable development through international cooperation.
We have in Geneva a large ecosystem of international institutions that play an important role in the achievement of the SDGs and Mexico participates in and contributes to their work: WHO, WIPO, ILO, ITU, IOM, UNHCR, just to mention a few of them. The Mission also serves as a link between the Mexican authorities and the Geneva-based agencies to trigger cooperation for the benefit of the Mexican people.
Human Rights and Disarmament are priorities of Mexico's Foreign Policy. We follow with particular interest the work of the Office of the High Commissioner for Human Rights, the Human Rights Council, and all disarmament bodies. In the field of HR, we advance the highest international standards for their promotion and protection. In the disarmament arena we present initiatives aimed at contributing to the achievement of a more peaceful world, where dangerous weapons are prohibited or strictly regulated.
We appreciate your efforts as Chairperson of the Human Rights Council Task Force on Accessibility, so please tell us your views on the importance of giving priority to the CRPD and to the global efforts to improve access to the Council for disabled persons.
The Human Rights Council, as the body in charge of the promotion and protection of human rights, must ensure that persons with disabilities are able to participate in an effective manner in all debates and discussions that may have an impact on their daily lives. The COVID-19 Pandemic and the UN liquidity crisis posed challenges to the efforts in this area during 2020, but although we had to adjust our expectations for that year, concrete measures that facilitated the participation of persons with disabilities in the work of the HRC were implemented and produced good results. The Task Force will continue its work to ensure that accessibility measures are always in place, bearing in mind that the rights of persons with disabilities are not negotiable.
It is very positive to note that, during the last year, disability rights gained visibility in areas beyond the HRC, such as humanitarian assistance, risk management and development, where particular attention was devoted to the protection of persons with disabilities. I hope to see this trend being reinforced in the future.
What were the main challenges you have faced as a woman while working as an ambassador from a male-dominated region?
I have to say that I find Geneva a very inclusive and friendly place. I have not faced any gender-based bias here and to the contrary, I believe that the Gender Champions initiative has been very useful to generate consciousness and further the participation of women at all international discussions. Women Ambassadors are also very supportive of each other and although there are areas where women participate less than in others, for example in disarmament, I have always found very respectful male counterparts.
Although we continue to face challenges, women's voices are being heard more and more. They must be fully reflected at all levels and in all areas of multilateral work and I am very glad that we are moving towards that direction internationally.
Congratulations on your election to the International Criminal Court. This will be the first time in history that Mexico will have a Judge at the Court. Can you tell us what are your priorities as a Mexican and as a woman?
What does this represent to your country?
Thank you! I feel very honored to join the International Criminal Court. It is an institution that Mexico strongly supports and that has an extremely important mandate. Being elected as the first Mexican Judge to the ICC after a very competitive process makes Mexico and myself very proud.
I am very conscious of the role of the judges within the efforts to eradicate impunity for the most heinous crimes of international concerns and I hope to contribute to the fulfilment of the objectives of the ICC, as well as to ensure that women's voices are reflected in its work.
Difficult to mention all my priorities! Let me try! I would like to bring my expertise and commitment for international law to the Court and to contribute to strengthening governance and judicial collegiality; to promote zero tolerance for bullying and harassment and to further efforts to mainstream and facilitate victim´s participation within the judicial proceedings, among others. We all need an effective and strong ICC, and that objective will guide my work.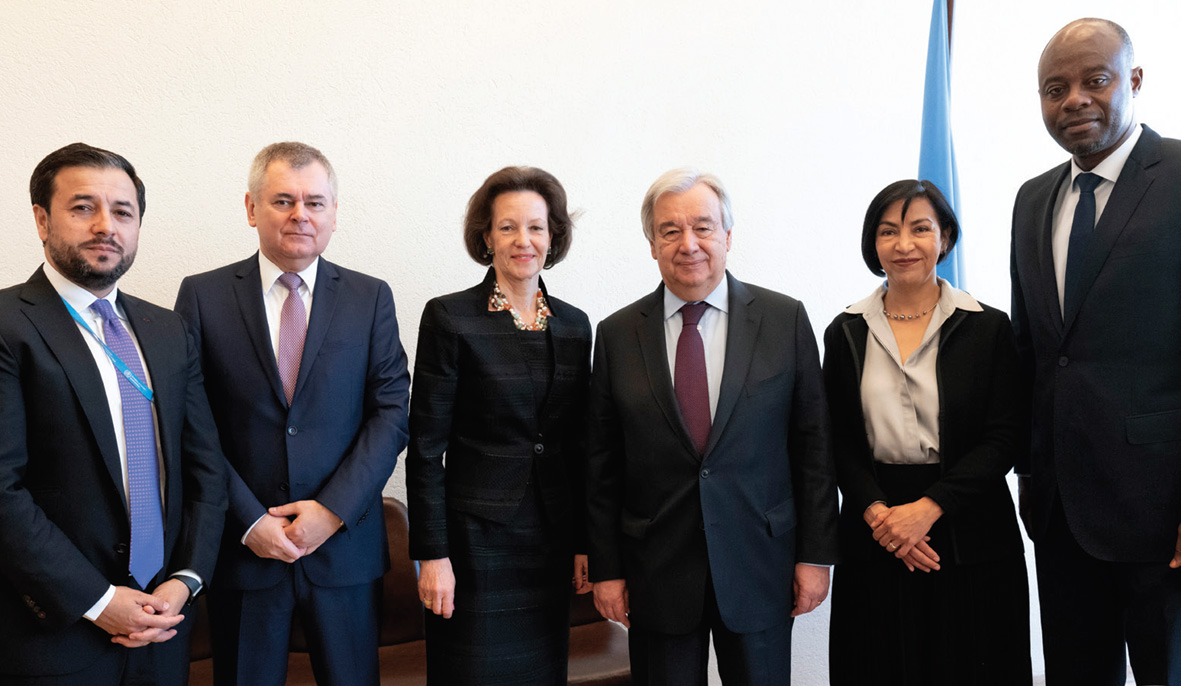 Socorro Flores Liera with Secretary- General António Guterres in meeting with Elisabeth Tichy Fisslberger (Austria) President of the HRC, at the 43rd regular session of the HRC. Feb 24th, 2020.