Inaugurated in November 2001, the Patek Philippe Museum in Geneva houses one of the world's most important and prestigious horological collections. Some 2,500 watches, automata, precious objects and portrait miniatures on enamel invite the visitor on a fabulous voyage through five centuries of Genevan, Swiss and European horological art, as well as providing a panoramic view of Patek Philippe's production since 1839. The recent introduction of a new museology makes the experience particularly vivid and engaging. This internationally renowned jewel in Geneva enables experts, devotees, and the general public to make closer acquaintance with the exceptional cultural heritage that horology and the related arts represent.
An extraordinary private collection
The Patek Philippe Museum was born of a man's passion for horology. That man is Philippe Stern, who was president of the Geneva manufacture at the time and is now its honorary president. Stern began assembling the collection well before thinking in terms of a museum. He concentrated at first on Patek Philippe watches, particularly the complicated models. In 1980 he enlarged the scope of his search to take in all timepieces that had left their mark on watchmaking history since the sixteenth century, together with the greatest treasures of the enameler's art, that sublime Genevan specialty.
Little by little, he built up one of today's most extraordinary horological collections. But his aim in bringing together all these technical and aesthetic masterworks was not solely to satisfy his personal tastes, he also intended to share his love of the watchmaking art and his joy of discovery with the greater public, and, in doing so, to communicate the splendor of Geneva's high-watchmaking tradition and ensure that this cultural heritage would be handed down to future generations. And so, the idea of a museum began to take shape.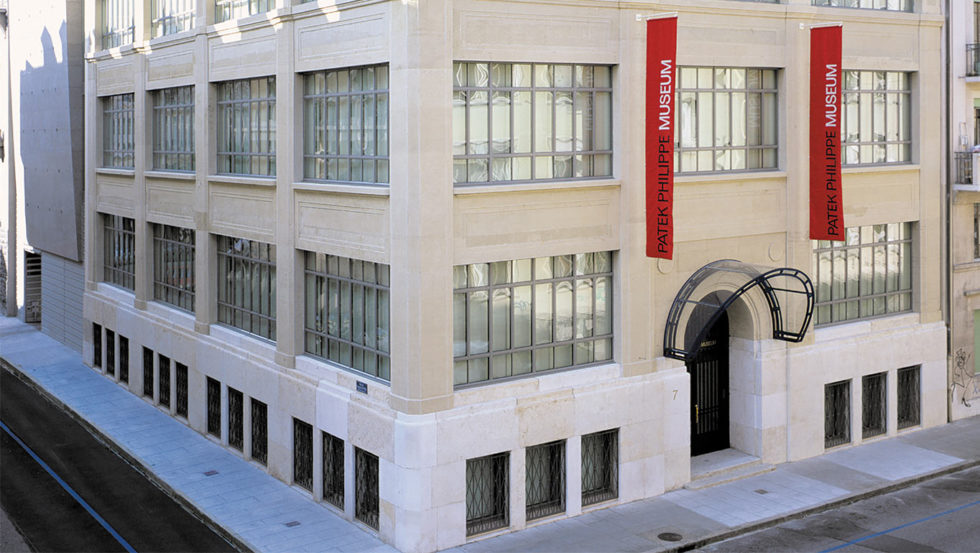 A building in the grand style
An extraordinary collection calls for an exceptional setting. The Patek Philippe Museum finally greeted the world in a magnificent industrial building dating from 1919–1920 and restored with great restraint. Located at number 7 Rue des Vieux-Grenadiers, in the Plainpalais district of Geneva, this building had been occupied by watchmakers and artisans in related trades throughout its history. Patek Philippe acquired it in 1975 to house Ateliers Réunis, a production unit making cases, bracelets and chains. In 1996, these activities moved to the new manufacturing premises in Plan-les-Ouates, leaving the building vacant.
Philippe Stern decided that this was where he would present his collection. Between 1999 and 2001 the structure was fully restored, adding an additional floor, with strict respect for the original architecture. Stern's wife Gerdi oversaw the interior decoration, with the aim of giving the rooms the warmth and intimacy of a private residence. In November 2001, the Patek Philippe Museum collections were at last unveiled, in surroundings worthy of their technical, artistic, aesthetic, historical and scientific value.
A treat not to be missed
In the space of two decades, the Patek Philippe Museum has made its mark as one of Geneva's finest museums and cultural highlights. Besides attracting visitors from all around the world, it also draws people from the surrounding region who are keen to know more about Geneva's cultural heritage. The number of visitors testifies to its success, with more than 600,000 admissions in twenty years. Along with the permanent collections, the museum has held temporary exhibitions showcasing particular treasures: "Timepieces for Royalty" in 2005, "The Mirror of Seduction: Prestigious Pairs of Chinese Watches" in 2010, and "Timepieces Signed Rousseau" in 2012. Public guided tours take place every Saturday in French and English, or may be booked in advance in seven languages (French, English, German, Italian, Spanish, Chinese and Russian).
A new experience for the visitor
Under the leadership of Philippe Stern and Peter Friess, Director and Curator of the museum since 2014, new acquisitions have continued to enrich the collections. The layouts of the two main collections have been reorganized, each now comprising twenty themed areas reflecting particular aspects of the watch's history or the world of Patek Philippe. To complement the wide choice of guided tours, the museum has also introduced a tablet-based audio guide. This device makes it possible to provide all the required information on the exhibits and to illustrate the context in which they were created and worn, highlighting the close links between watchmaking and science, fashion, artistic movements and social change.
The audio guide currently offers some twenty hours of accompaniment in English, French or German. Other languages will be available in 2023. Users may compose their own itinerary or choose a pre-set route, such as the one suggested by Philippe Stern himself. About 10,000 photographs complete this application, enabling the user to zoom in on details or examine features that may not be visible in the display cases. Modern, interactive and dynamic, this à la carte means of discovery gives visitors the freedom to tailor their visit to their particular interests.