Please tell us briefly about your career, why you joined the diplomatic service, and how you were appointed to your current position as Permanent Representative of Qatar to the UN in Geneva?
After having finished my university studies crowned, with a Bachelor's Degree in Public Administration, a Master's degree in Development Studies (SOAS University, London), and a Ph.D (from Exeter University, UK) I had many jobs across different sectors. To name a few: Professor at Qatar University, Associate Professor at the Doha Institute for Postgraduate Studies and Executive Director of the Childhood Cultural Centre attached then to the Qatar Foundation.
I was a member and a consultant to various national and regional bodies and local and international committees. Afterwards, I was appointed as one of the first four women for membership of the Shura Council of Qatar. I cannot describe what has been achieved by Qatari women without expressing my deep thanks to His Highness the Father Amir and Her Highness Sheikha Moza bint Nasser and His Highness the Amir for their support, trust and encouragement to Qatari women. This has enabled them to attain their hoped-for role in labour, economy, legislation and diplomacy. Qatari women have proven their worth in playing leading roles in dealing with and solving crises, in humanitarian action, peacemaking and democracy, conflict resolution and development support.
I was appointed last June by His Highness the Emir of the State of Qatar as the Permanent Representative of my country to the United Nations Office in Geneva, which is a source of great pride and responsibility for me.
Considering you were one of four ladies to join the Shura Council of Qatar for the first time for a four-year term, what in your view are the main skills that a woman should possess in an Arab country to reach such a high position?
First of all, I have to say that women's membership in the Shura Council is a pioneering and fruitful experience that represents a significant step in the development of Qatari women's capabilities and empowerment. It has also encompassed national representation within society, undoubtedly constituting a significant addition to the history of Qatari women's progress.
It is essential for women to possess fundamental skills such as leadership, strategic vision, negotiation skills, teamwork, productive communication, adaptability, time management, organization, and the sustained pursuit of training using the latest methodologies, as well as keeping up-to-date according to their specialized fields of interest.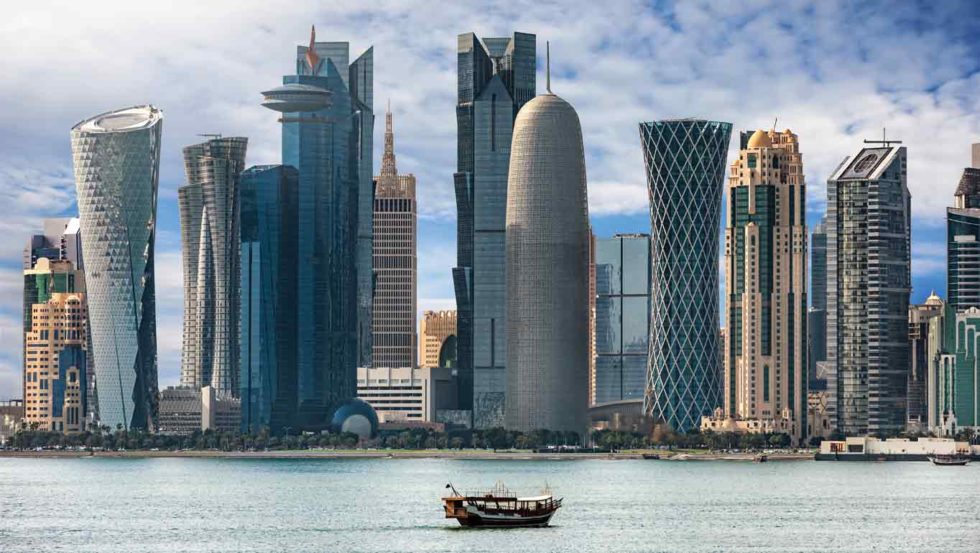 What are the international political priorities of Qatar in Geneva?
The international political priorities of the State of Qatar in Geneva focuses on:
• Mediating between conflicting parties to agree to a peaceful settlement;
• Promoting sustainable development;
• Reducing discrimination against women and religious minorities;
• Strengthening humanitarian assistance in war and conflict zones;
• Anchoring and consolidating efforts aiming at reducing expected humanitarian needs in complex emergency circumstances.
These priorities are becoming increasingly important in the light of the many and diverse challenges facing today's world, from the economic crises, wars and natural disasters associated with climate change, which have become a real threat to all humanity, as well as the worsening global food security crisis and growing numbers of displaced persons around the world.
Your country is known for being a major donor at the international level. How are the donations to Qatar allocated to different sectors?
The State of Qatar pays particular attention to the Least Developed Countries (LDCs) and is one of the largest donors and supporters of these countries. This is evident in Qatar Fund for Development's contributions amounting to $708 million in humanitarian and development aid over the past year through the support of core resources, the implementation of projects and programs for a number of United Nations organizations to support the LDCs, which has contributed to the achievement of peace and sustainable development in fragile and marginalized societies around the world. The State of Qatar bases the allocation of its donations on its strategic objectives, including a focus on helping developing countries according to their needs, and strengthening local and international cooperation. Together with emergency response and humanitarian assistance efforts, Qatar has assisted States in strengthening institutional capacities in the health, education and economic sectors to build resilience, enhance disaster preparedness systems and promote comprehensive sustainable development, in line with the 2030 Agenda for Sustainable Development.
Qatar has recently inaugurated the UN house in Doha. How do you intend to strengthen the relations with the UN?
The opening of the UN House in Doha on March 4, 2023, is an important step that enhances the diplomatic presence and cooperation between Qatar and the United Nations, representing the culmination of decades of dynamic relations between both sides.
This adds new and fruitful dimensions to the relationship between the two sides, most notably emphasizing that Qatar is an active and trustworthy partner for the United Nations through achieving a greater presence and non-traditional effectiveness on critical issues related to developmental, humanitarian, and diplomatic endeavors.
Qatar seeks to strengthen its partnership with the United Nations by raising the UN's presence in Doha and capitalizing on the potential and efforts of the United Nations and international institutions in an optimal manner. This includes:
• Affirming Qatar's commitment to supporting the United Nations' humanitarian agenda;
• Cementing Doha's status across various levels as a UN hub for diverse exchanges and diplomatic dialogues, while bolstering joint efforts;
• Ensuring coordination of development, humanitarian and diplomatic work and strengthening the work of the United Nations in Qatar and abroad;
• Strengthening Qatar's regional and international role in line with the United Nations' role in achieving peace, security, and human rights;
• Supporting the Sustainable Development Goals, promote human rights, education and humanitarian work.
Qatar is known for being a multicultural country. What are the main aspects of Qatari culture that you wish to share with us?
Qatari culture is rich and diverse, combining the preservation of customs and traditions that reflect the society's identity, history, and distinctive Arabic heritage, with a modern and evolving character that the country is known for. Expatriates represent a large percentage of the population, and they participate with the citizens of the State of Qatar in achieving their ambitious vision. There are encouraging factors that attract foreigners to choose Qatar as a destination to reside, such as coexistence, respect, high safety standards, comfort, well-being, advanced healthcare, and more. Furthermore, Qatar warmly welcomes people of all religions and cultures, providing all means to assist and enhance their integration into the community, considering it a matter of utmost priority.
It's important to mention the significance of the Qatar 2022 World Cup and its heritage, which facilitated a cultural dialogue among all nations and ethnicities. The World Cup demonstrated the Qatari society's openness to various cultures and religions, adding a rich dimension to the social life of both Qataris and residents. It created a sense of comfort in the hearts of residents and visitors alike, all while respecting others and emphasizing the principle rule of law.