Our second summer during the Covid-19 pandemic has arrived, and with it comes the promise of recovering lost tastebuds with delectable dishes from some of Geneva's finest open-air rooftops and terraces. I have devised a new meaning for 'Covid-restrictions'. No longer does it pertain to notions of concrete confinement and sweatpant takeaways. Instead, it promises an escape from work-at-home monotony and invites freshly-vaxxed hopefuls to safely-maintained open spaces and seasonally-sourced menus.
Here are a few locations worth checking out, as well as some of the ways they've individually given Ms Rona's restriction threats a run for her money:
La Potinière
Located at the heart of Jardin Anglais, this lake-facing restaurant is a favourite amongst locals. Whether you're in the mood to Wine and Dine with a refined "bistronomique" selection or bask in the early hours of Sunday Brunch, La Potinière offers a range of atmospheres that make each visit a new and surprising experience. The restaurant's website also reassures an hommage to missed festivals and celebrations, with plans to hold themed nights between the months of June and August, celebrating the likes of Halloween and Valentine's Day.
La Potinière promises to offer a 'cosy' environment that livens up as guests enjoy one or a few colourful cocktails in the evenings. As terraces have had the opportunity to open up in May, the staff and guests have been like-minded in their patient excitement for the return of outdoor dining. 'Restriction' isn't on the menu this summer at La Potinière as, even with limited capacity, the terrace is still able to fit up to 150 guests.
Additionally, from the owners of La Potinière, a brand new restaurant opened its doors in June 2021, providing a much-needed party atmosphere.
The new nighttime terrace called "Le Blanc Valet l'Esprit Festif" is located on Rue Henri-Blanvalet.
I urge you to check out the Instagram page: @leblancvalet_espritfestif, where the owners share the progress of picking crockery samples and tasting wines and cheeses, in the lead-up to their inauguration date.
Four Seasons Hotel Des Bergues
This next set of eateries are framed within the elegance of Geneva's Four Seasons Hotel Des Bergues. In the midst of lockdown, the restaurants' decisions to adapt to a take-out system came as a pleasant experience for locals. Covid's demands have inspired the atmospheres and menus at the restaurants Il Lago and Izumi, both of which anticipate impressive summer experiences.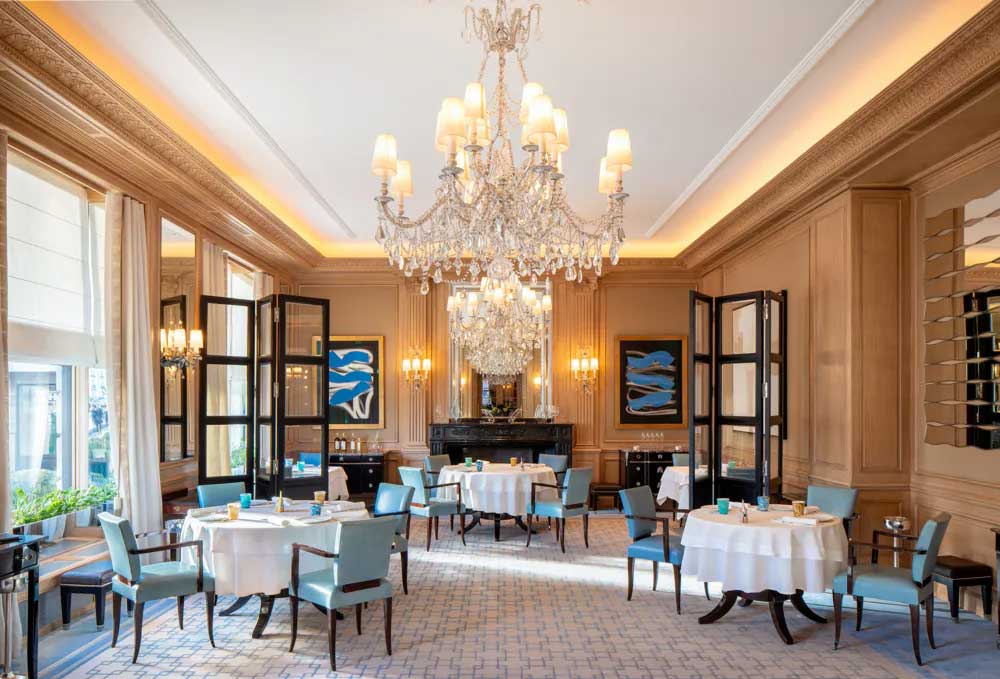 Il Lago
Il Lago is the Bergues' Michelin Star restaurant that welcomes guests back with its brand new terrace in June 2021. Chef Massimiliano Sena has created a family-style menu, inspired by his memories from childhood, and is dedicated to share a classic taste of Italy.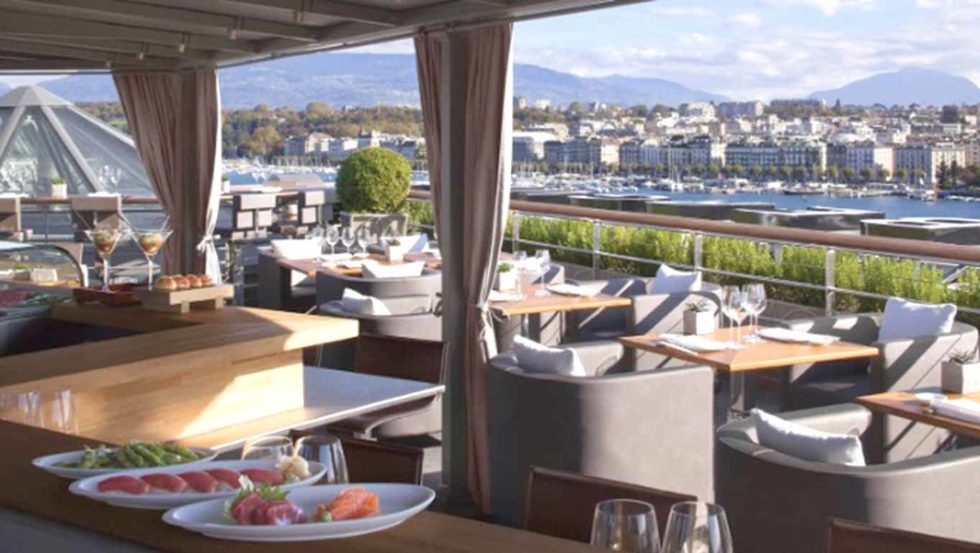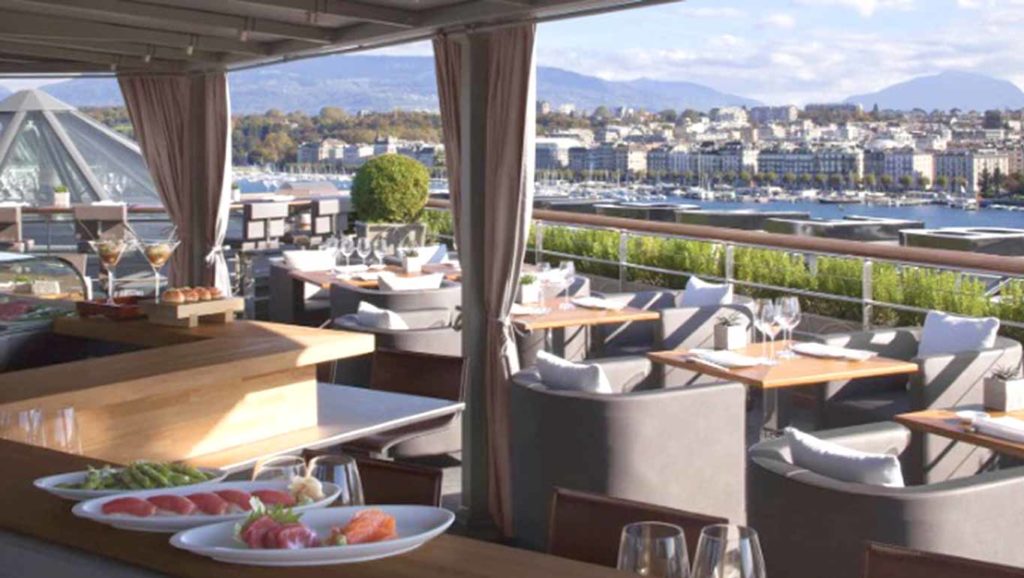 Izumi
Izumi allows guests to travel abroad this summer, taking a flight to the Hotel Des Bergues' rooftop restaurant. Guests are equally treated to a panoramic view of Geneva like no other. Although already reaching immense heights of sophistication, the "Izumi on the Lake" experience adds another layer of excitement. The experience allows guests to enjoy the Nikkei cuisine offered by Izumi on an awe-inspiring, Lac Leman boating trip with a meal and drinks onboard.
In addition to these well-established spots, a new pop-up restaurant located on Ile Rousseau called "La Riviera du Rhône" also arrives in June, described as an elegant beach club with the ambiance of a cozy lounge, perfectly suited for soft summer nights.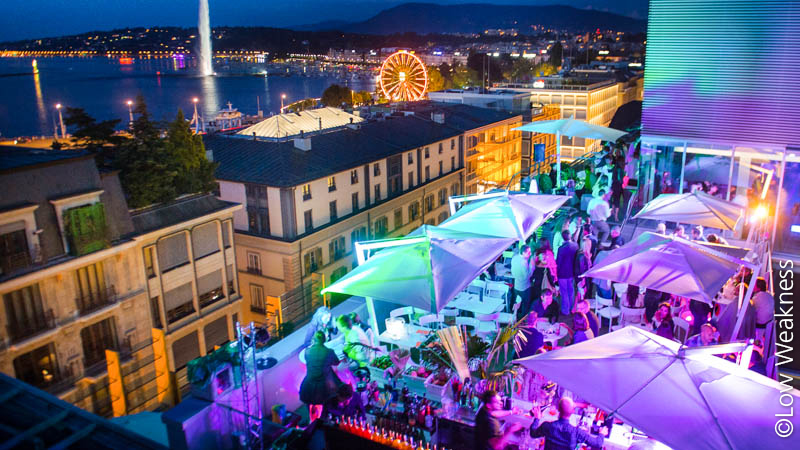 Rooftop °42
Rooftop °42 is another fan favourite. Located on the Rue du Rhône, this Gastropub style bar also provides an impressive view of the lake. This establishment's finest draw is its electric night atmosphere that allows its guests to enjoy the equally electric vibe of Geneva's summer nightlife.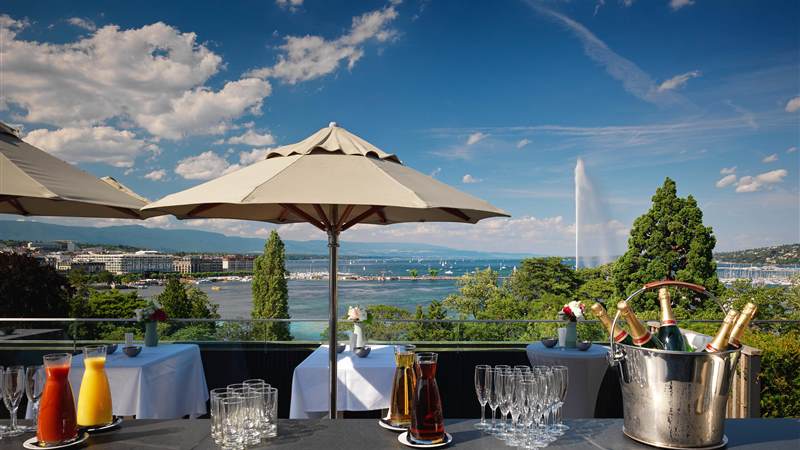 MET Rooftop Lounge
The MET Rooftop Lounge is another cocktail spot based in the later hours of the evening. The lounge is located atop the Hôtel Métropole and displays views of Jardin Anglais, the Jet d'eau, as well as the Cathédrale Saint-Pierre.
Restaurant La Perle du Lac
Finally, La Perle du Lac is the true Jewel of Mon Repos Park. This out-door eating experience promises views of the Mont blanc. Perhaps more importantly at this time, the terrace is located in the midst of a lively Park that is a refreshing and familiar reminder of pre-Covid days, and allows you to bask in the joy of passers-by, enjoying the pleasure of summer in Geneva. I hope you're encouraged to go out and eat this summer. Of the many things Covid had brought, its suggestion to consider the privilege of taste, is one that perhaps will continue to linger with us.