This article is part of a series of interviews with people who work in the media to provide the news and views that shape our perceptions of world affairs. Kasie Hunt spoke to UN Today about her life and professional career in television.
What is your professional background?
I studied international affairs at George Washington University and did my master's degree at Cambridge in the UK, thinking I'd try to be a foreign correspondent – I graduated from high school the year the U.S. invaded Iraq – but then I got assigned to cover a presidential campaign and I realized very quickly that's where I wanted to be. Campaigns ultimately determine who gets to make decisions about starting or ending wars. But they're also adrenaline filled and so much fun to cover.
My first was Mitt Romney's 2012 campaign, which I covered for the Associated Press from his campaign plane. I jumped to TV after that, covering the Hill for NBC News and then the 2016 presidential campaign. I started anchoring my first show, KasieDC on MSNBC, during the first year of the Trump administration, before moving to the early mornings with Way Too Early during the coronavirus pandemic.
I made the leap to CNN in 2021 to work on a streaming show at CNN+. Before that even launched, I learned I had a brain tumor. I had surgery to remove it and thankfully it was benign. Under CNN's new ownership, I started doing special events coverage on CNN and backing up my colleagues in the anchor chair. Weekdays at 5am ET I host the soon-to-be-renamed Early Start with Kasie Hunt on CNN, and weekdays at 11am ET I host State of the Race with Kasie Hunt on CNN International, both of which are available on the recently launched CNN Max. It's really exciting to have both of my shows available on streaming.
What's the best interview you've ever done?
This is a hard question! I'd have to say my interview with now-President Joe Biden when he was at the biggest inflection point of his 2020 run for president. It was Sunday night, live on my MSNBC show, at a bar in South Carolina, just days after he had pulled up stakes from New Hampshire before voting finished there. His candidacy was declared all but dead. But in his interview with me, he was energetic and defiant, and insisted he would win. A day later, Rep. Jim Clyburn of South Carolina announced his endorsement; Biden would go on to win South Carolina, the nomination and the presidency.
What is the interview you'd like to do but haven't been able to yet?
It will never happen, but I'd like to interview Taylor Swift. I have endless questions for her about power, stardom, her songs, her politics, and how she became a global force in a completely fragmented world.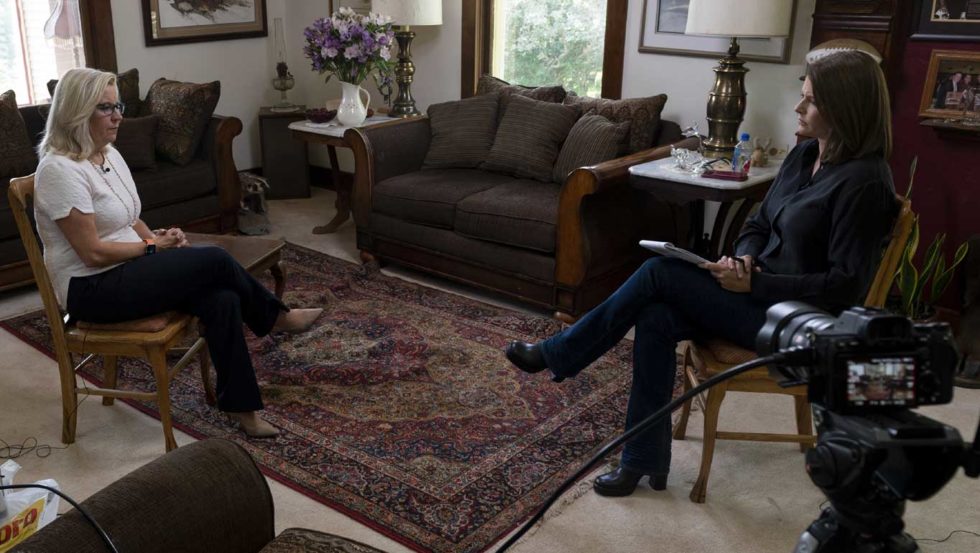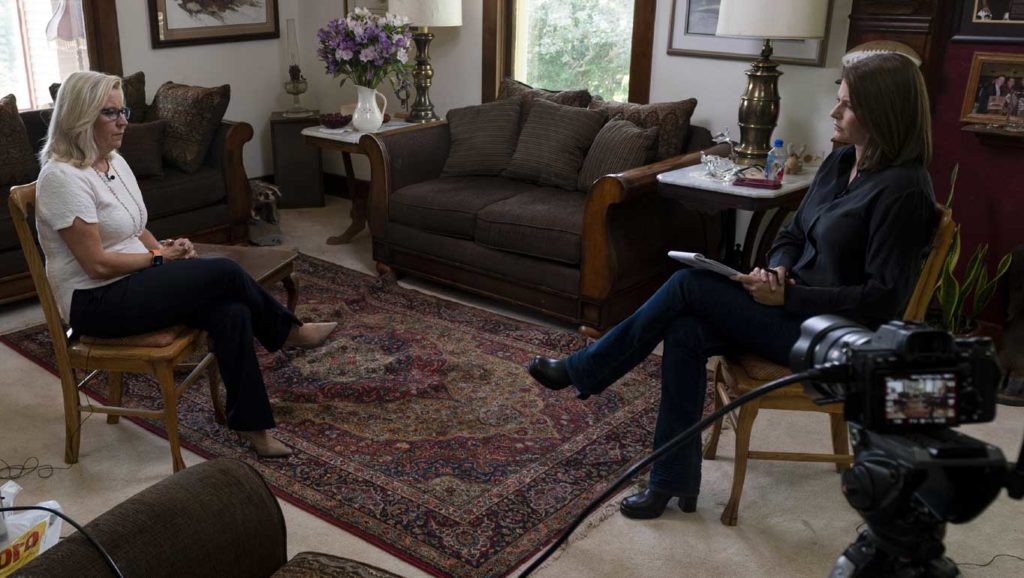 Kasie Hunt interviewing Elizabeth Lynne Cheney, an American attorney and politician. Credit: CNN
What is your view on the role of media?
I had always believed my job was to give people the information they need to make the best decision they can about who should be given the responsibility of leading the United States, whether it be as president or in Congress. It's become harder in the age of Donald Trump because he says so many things that aren't true and people believe him. Now I believe it's my job to let viewers get to know me, so they'll trust me and believe me when I am covering something and telling them something that doesn't line up with their previously held views. It's to work as hard as I can not to put my finger on the scale but to also be honest about who I am, what my questions are, what my doubts are, so they can see how and why I come to the conclusions that I do. More than ever, it's important to have journalists that people trust.
What is your vision of media 10 years from now?
We are going to have to do a lot more work distinguishing what is real from what is fake, and I think that's a central challenge we haven't solved yet. It is part of why I focus on trust and authenticity every day, because as it gets easier to generate renderings of people who don't exist delivering news that may or may not be true, the more important it will be to be a real human people identify with and relate to. Otherwise, how will we be able to trust anything we read, hear, see?
Could you share an interesting work-related anecdote?
I once interviewed Gary Johnson, who was running for president, and he stuck his tongue out at me in the middle of the interview. You have to see it to believe it. https://nymag.com/intelligencer/2016/09/whats-gary-johnson-doing-with-his-tongue.html
You covered the 2016 election as a Capitol Hill correspondent. What are the main learnings you brought back home once the election finished?
I learned to trust what I was seeing with my own eyes. I was an up-and-coming television correspondent and there were times when I listened to the conventional wisdom being discussed by my big bosses in New York on conference calls and let it influence my thinking. One day in the last week of the election, an operative for the Hillary Clinton campaign laughed at me when I suggested she might lose. I said on a TV set afterward that covering the Clinton campaign didn't feeling like covering a winning presidential campaign in the final days of an election. And I was excoriated for it by my sources and privately mocked by some of my colleagues. But what I saw on the trail was right. I don't make that mistake anymore.