Reports and recommendations from scientists and international organizations show a more and more alarming situation. They insist that we must now act quickly and meaningfully to curb the climate impacts of human activities. In this context, the Geneva Council of State declared a climate emergency in December 2019. On 2 June 2021, at a special meeting organized at the World Meteorological Organization, it went on to strengthen the goals in its cantonal climate plan, available at planclimat.ge.ch.
Mr. Serge Dal Busco, Cantonal Councillor in charge of the Department of infrastructure in Geneva, recalls that: "our climate plan is intended to reduce greenhouse gas emissions by 60 per cent before 2030 and achieve carbon neutrality by 2050. For mobility, this means converting 40 per cent of internal combustion engine vehicles to electric". These ambitions require strong measures that will change the travel habits of people in the Canton and in the greater Geneva region. After all, the transport sector alone is responsible for 26 per cent of CO2 emissions. For passenger transport, the goal for 2030 is to reduce journeys in private motorized transport by 40% and encourage people to travel differently. In other words, create a modal shift to public and active transport. This involves eliminating 4 in 10 car journeys and converting 2.5 of the 6 remaining vehicles to electric.
A stronger legal framework
In addition to the cantonal climate plan, the Canton has based the development of its strategy on several federal and cantonal laws requiring the development of active mobility. They include:
• The law on coherent and balanced mobility, adopted by a popular vote in 2016, which divides traffic in the Canton into zones. In the city center (zone I) and other urban centers (zones II), public transport and active mobility are prioritized.
Outside zones I and II, active transport must be made safe with specific and, if necessary, separate facilities.
• The law on active mobility, also adopted in 2016, which established the principle of safe and direct cycle lanes, a sufficient number of cycle parking spaces, attractive and safe pedestrian crossings and regulation of intersections designed to encourage active mobility.
• The federal law on cycle paths, which entered into force on 1 January 2023 and is aimed at making cycling safer. The central aspect of this law is the obligation for Cantons to plan and produce networks of cycle lanes.
To achieve its ambitions for green transition, the Canton has prioritized the development of public transport, such as the Léman Express (launched in 2019) and extension of the tramlines to neighbouring France, and the improvement of active mobility infrastructure and services: the self-service bike rental system Vélo Partage, operated by Donkey Republic since August 2020, the regional green pathway between Annemasse and Eaux-Vives, which will continue to Saint-Genis, special cycle lanes created during the COVID-19 pandemic and the two-way provision for cyclists around the bend of the lake, from Quai Gustave-Ador to Quai Wilson.
The approach has met with success: the green pathway between Annemasse and Eaux-Vives has more than 6,000 users a day! These results are boosting ongoing and future projects: finalizing the bend of the lake with the pedestrian walkway alongside Pont du Mont Blanc from 2026 and laying down almost 100 km of major cycle routes connecting the nerve centers of the Canton by 2030. All this infrastructure has been designed considering two main driving forces that can promote a modal shift towards cycling: to be attractive, security and safety must be ensured.
The improvement and development of dedicated routes for cycles are of course essential to encourage people to change their travel habits. However, supporting measures are needed, including more cycle parking spaces on the streets and in car parks, (the Fondation des Parkings already manages 21 cycle stations with 3,900 bike spaces) short-term bike rental, subsidized cycle training and cargo bike purchase and amendment of the Road Traffic Act to allow cycles to turn right at red lights.
This strategy is gradually delivering results: every year, the number of frequent cycle users increases by 10 per cent, the share of cycling among all means of transport, including walking, is now more than 6 per cent and VéloPartage rentals are booming (up by 335 per cent in January 2023 compared to the same month in 2022, while the number of users reached 20,000 in 2022). New transport plans in the Canton should make it possible to build on this progress to fulfill the goals of the cantonal climate plan in seven years' time, by 2030.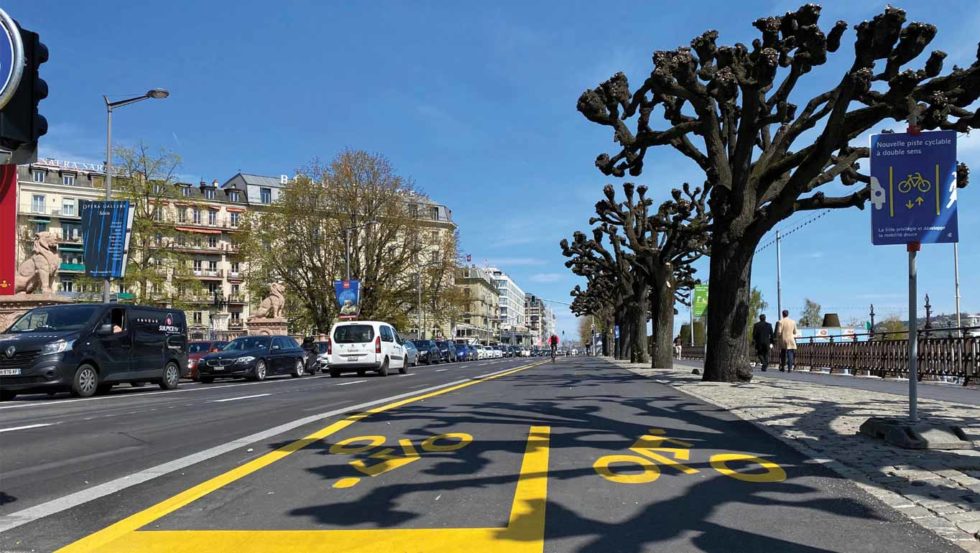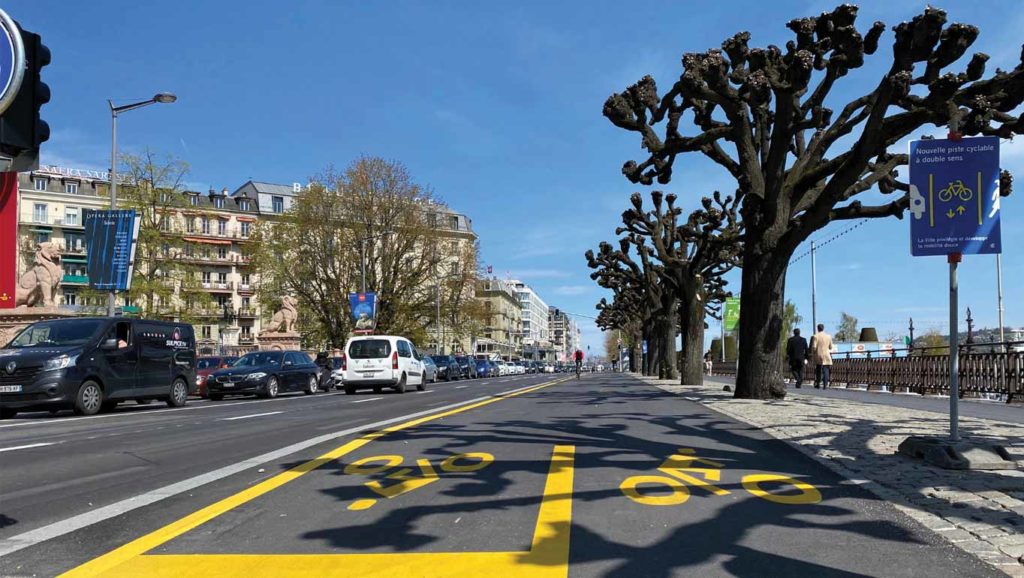 International Geneva gets active
The organizations and missions that make up international Geneva employ more than 35,000 people. Among the many institutions headquartered in Geneva is the World Meteorological Organization, which established the Intergovernmental Panel on Climate Change (IPCC) in 1998, in cooperation with the United Nations Environment Programme. That makes it only natural for international Geneva to mobilize for the green transition, as shown by the 2050Today initiative. 2050Today brings together a community of local and international institutions determined to ensure rapid, continuous and measurable reductions in their own greenhouse gas emissions.
The project was launched following the signature of an agreement between the University of Geneva, Services Industriels de Genève, the city of Geneva, the Canton of Geneva and the Federal Department of Foreign Affairs. The agreement confirms 2050Today as a climate action forum for Geneva and allocates it three years of funding.
"Promoting and accelerating the decarbonisation of international Geneva are the goals of 2050Today. To that end, committing to reimagined sustainable mobility is one of our priorities", explains the Executive Director, Jean-Pierre Reymond.
The work in progress shall produce a common roadmap for the 60 signatories regarding the mobility plans. "We are very happy to see that the international Geneva stakeholders are rallying around the green transition and coordinating their ambitions through 2050Today", said Serge Dal Busco, Cantonal Councillor in charge of the infrastructure department. "There is a real synergy between the work being done in the Nations district and the mission of 2050Today. In order for the transformations to be effective, employers in the area need to understand the key role they have in changing mobility habits among their staff. Of course the work is just beginning, but it is wonderful to think that soon international organizations will apply for the Label Ecomobile, our new Canton-level certification."
PRACTICAL TOOLS
TOOLS FOR ACTIVE MOBILITY
Whether for pedestrians or cyclists, the Geneva authorities have developed various aids for active modes of transport:
Subsidies:
• The Canton subsidizes the purchase of cargo bikes. More information is available at ge.ch/subventions-velo.
• Some communes also propose subsidies for active mobility. Ask your communal administration for information directly.
Geovelo:
• This is the main application for guidance on safe routes for your bike. Available on PlayStore and AppleStore.
Bike stations:
• At velocity.ch, you can easily reserve a safe parking spot for your bike at one of the Canton's many bike stations.
"Genève, une ville en marche" map:
• Geneva is the Swiss city where people walk the most (the share of walking among modes of transport is 39 per cent!). The city of Geneva has produced a map with thematic routes and journey times. For more information, visit geneve.ch.
Cycling regulations:
• Find the applicable regulations in Switzerland through this link: ge.ch/pourquoi-pas-velo-aujourd-hui-j-essaie.
For all questions related to mobility in Geneva, GE-TRANSPORTS is your information and contact hub:
• By telephone, on 022 546 87 00, from Monday to Thursday, from 10:00 to 12:00 and 14:00 to 16:00.
• By email at ge-transports@etat.ge.ch.