Generally, the UN doesn't have well-defined, linear or predictable progressions within established structures. As in more and more organizations nowadays, there are no career ladders through regular promotions over prescribed periods of time in the United Nations Secretariat.
Instead, staff craft their very own career paths. It is the prerogative of each staff member – and their responsibility – to define what a satisfying career looks like and how to achieve it. That said, the Organization provides meaningful opportunities for staff to achieve career satisfaction.
Before reviewing the programmes on offer, let's consider the many ways to achieve career satisfaction. For some, it is all about depth in a given field – honing our expertise. It means enjoying the fulfilment that excellence brings by continually helping and guiding our colleagues and our larger network in that field. For others, satisfaction is derived from moving within or across job networks; breadth and variety is more important.
This can mean mastering political or peacekeeping knowledge about various regions or achieving a well-rounded administrative background across human resources, finance and procurement. For these staff, the wide range of job types in our Organization is a major driver of satisfaction.
The focus on upward progression or promotions through post levels will remain important to some staff. This is also a valid source of satisfaction – the chance to be continually challenged with new levels of decision-making that make an impact through leading larger teams. This desire is common and natural in many ways. When it becomes a singular focus, however, it can become problematic – especially in an Organization where fewer posts are available at the higher levels.
Some staff look forward to the possibility of serving at locations across the globe. The Organization offers this to an unparalleled degree with an astonishing number and type of duty station contexts. The chance to serve across continents and thereby learn about new cultures, perspectives and languages is key to long-term job satisfaction for some.
It is also important to acknowledge the career satisfaction we can derive from relationships with our colleagues. This can be a driving force behind fulfilment – either leading a team or contributing to a team in a meaningful way each day through conversations, helping one another and working steadily and successfully toward common goals.
It is impossible to credibly discuss career satisfaction without touching on one major driver: the influence of our personal circumstances on our career choices. We all need to take an honest look at our needs, desires and expectations with regard to our families, caring obligations and social and economic circumstances. When we craft our career paths, we need to recognize how our personal lives and the well-being of those that we deeply care about affect our decisions. If we try to brush these aside, we may end up frustrated with our career choices further down the road.
Professional satisfaction means feeling proud, valued and engaged. As staff members, we must identify which sources of career satisfaction are most important to us at any given point in our careers. For most, it will be a combination of all these sources – depth of experience, breadth of experience, the chance to move upward, connections with colleagues and accommodation of personal circumstances. Underlying all these sources is the satisfaction that comes from serving the peoples of the world through our unique and vital Organization.
Services and tools available
The Organization facilitates several types of career support services which provide opportunities for staff to deepen their professional capability, broaden their horizons and acquire and develop the future-oriented, transferable skills they need to deliver the Organization's mandates, while advancing their career plans.
For example, a new mobility programme is being launched which will provide staff in the Professional and higher categories, as well as Field Service staff, with opportunities for learning and skill development on the job through service in different entities and duty stations. It is expected to be fully operational by the end of 2022.
There are also short-term opportunities which facilitate the rapid acquisition and application of skills on the job. They are often demand-driven, arising when an entity is experiencing a temporary skill gap, and thus have budgetary implications. They include temporary job openings, job shadowing, job exchange and cross-training opportunities and volunteering initiatives such as those publicized through Conecta.
The Secretariat's award-winning Together Mentoring programme offers mentors and mentees the opportunity to reflect and discuss career planning, achievements, challenges and lessons learned. Inclusion is at the heart of the mentoring programme, with mentors and mentees paired across job families and categories, duty stations and entity types.
A coaching programme helps staff gain an outside career perspective and is targeted at various groups including colleagues in offices in transition, downsizing or closure. It also helps staff process and deal with other challenges such as work-life balance and interpersonal conflicts in a team. Staff hold sessions with external professional coaches who help them explore and address their short and long-term career needs.
Lastly, career labs take place on demand with smaller groups of staff or wider audiences. They have various formats such as webinars, information sessions, or structured training programmes.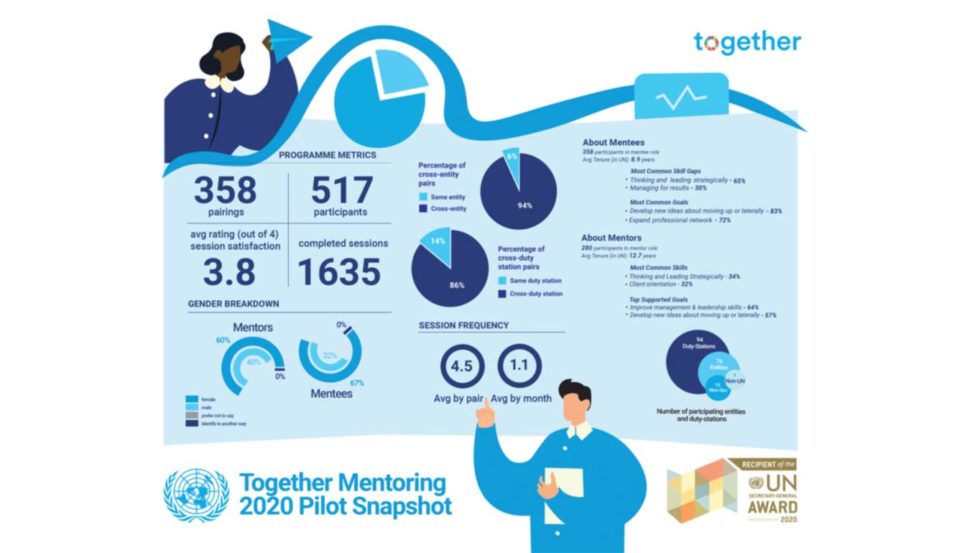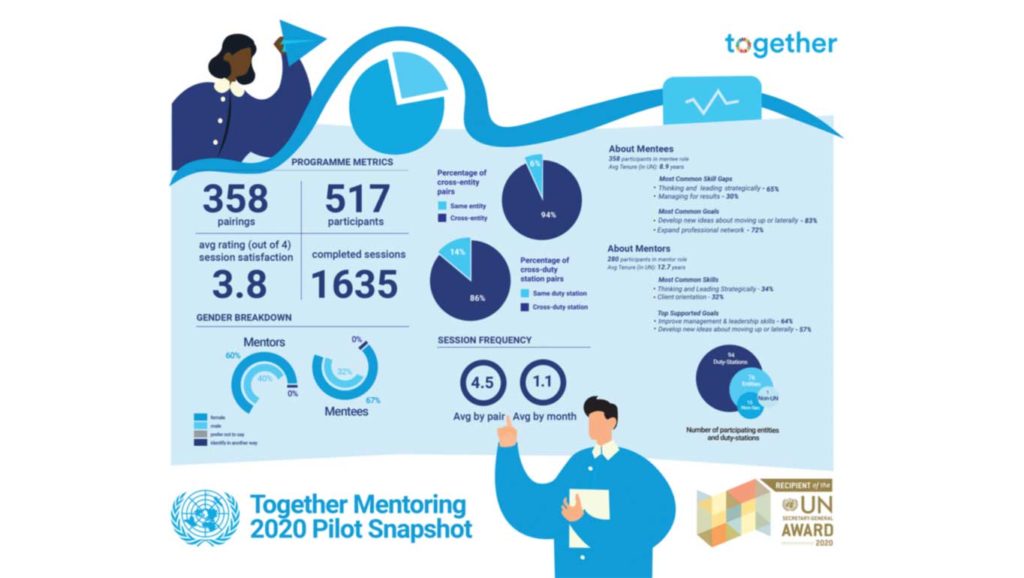 Equal opportunities for all
All the services mentioned and many of the learning programmes listed on the HR Portal are available to staff in all duty stations. Some duty stations or entities have their own budgets for learning and career development and may offer additional services.
The Organization aims to ensure that core programmes like mentoring and coaching are available to all staff. It is also developing a Career Centre on the Knowledge Gateway, a new one-stop resource on career development guidance, self-help tools and links to previously recorded events on career topics, which will be accessible across duty stations.
The Office of Human Resources also works closely with counterparts in learning at other entities and duty stations on the career development portfolio. Increasingly, these partners will develop products which will then be shared globally. Collectively, the Office and its partners will focus more and more on career programmes and products that can reach the widest audience possible and move away from supporting programmes that benefit smaller groups.
Handling career plateaus
Career plateaus are common at the United Nations – as they are at all organizations. While promotions will remain important to some, staff should remember that they can also develop through lateral moves. These may be temporary or long-term; in both cases they require a person to learn new skills, adapt to the working style and personalities of different colleagues and a new manager and solve problems in a different context. The Together Mentoring programme was created in part to address this issue. For mentees, connecting with a colleague in a different location or entity or occupational group can result in new perspectives, renewed career satisfaction and can also spark career planning actions. Serving as a mentor can similarly energize experienced colleagues. Many participants have reported that they see their current positions and experience in a new light after mentoring other staff.