The book, published by Amazon, is filled with scores of anecdotes– from the serious to the mostly hilarious. 
An award-winning journalist, Deen shared the first prize, two prestigious gold medals for excellence in development reporting in 2012 and 2013, at the annual award presentations of the UN Correspondents' Association (UNCA) in New York.
A Fulbright scholar with a Master's Degree (MSc) in Journalism from Columbia University, he was twice a member of the Sri Lanka delegation to the UN General sessions. The 220-page book is enriched from three different perspectives: a one-time UN staffer, a some-time diplomat and a full-time journalist.
The anecdotes in the book, he says, were picked up during General Assembly and Security Council sessions – and also in the corridors, committee rooms and in the UN's gossipy watering hole, the delegate's lounge.
When the UN celebrated its 50th anniversary in 1995, he points out, virtually every single head of state visiting New York for the General Assembly sessions decided to stay behind to participate in celebrations later that week.
But Malaysian Prime Minister Mahathir Mohamad, who was known to relentlessly accuse the big powers of manipulating the organization to their advantage, decided to skip the high-level event where world leaders were allocated five minutes to speak about the political virtues and the inglorious successes of the UN – even as the world body at that time was mired in failures in three military hotspots at that time: Bosnia, Somalia and Rwanda.
Asked why he was missing the much-ballyhooed event, Mahathir told reporters rather sarcastically: "In five minutes, you only have time to say how good things are. I am not good at saying how good things are, when things are bad."
Mahathir, who called for the resignation of then-Secretary-General Kofi Annan for failing to assert himself during the crisis that led to the US invasion of Iraq, told the General Assembly that the UN's organs have been "cut out, dissected and reshaped so they may perform the way the puppet masters want."
"And this august institution in which we had pinned so much hope, despite the safeguards supposed to be provided by the permanent five (UK, US, France, China and Russia), this organization is today collapsing on its clay feet, helpless to protect the weak and the poor," he said back in 1995.
When Egypt's onetime Foreign Minister Boutros Boutros-Ghali was running for the post of U.N. Secretary-General in late 1991, he had to contend with the candidature of Bernard Chidzero, then foreign minister of Zimbabwe, according to another anecdote in the book.
As the campaign began to intensify, Boutros-Ghali recounted a brief encounter with Chidzero, a longstanding friend, at a conference in Africa, a continent which at that time claimed the job of U.N. chief on the basis of geographical rotation.
Chidzero, who hailed from an English-speaking country and was backed by the UK and the 54-member Commonwealth of mostly ex-British colonies, was in conversation with Boutros-Ghali when he suddenly switched from English to French.
Having picked up the subtle message, Boutros-Ghali said he put his arms around Chidzero and jokingly remarked, "Bernard, if you want the approval of France, you must not only speak French, but also speak English with a French accent."
France, a veto-wielding permanent member of the Security Council, has been so passionately protective of its language that it may well have exercised its veto on any candidate who did not speak French.
Fathulla Jameel, the former Foreign Minister of the tiny island nation of Maldives, was exceptionally fluent in Arabic, and as part of his country's ongoing diplomacy, strengthened his relationships with Middle Eastern nations. Jameel, who was frequently seen in the company of Arab diplomats in the UN delegate's lounge, was known to regale his friends with anecdotes he had picked up during his visits to Arab capitals.
Perhaps one of his most enduring jokes related to the eccentric Libyan leader Muammar el-Qaddafi who made several unsuccessful attempts to form a single Federation of Arab Republics (FAR) seeking to merge his country with Egypt and Syria in order to create a unified Arab republic, with the possibility of some of the North African countries like Morocco and Algeria joining the federation later. But the plans never got off the ground.
So, when Qaddafi visited China, he met with Chinese leader Deng Xiaoping and offered a proposal to merge Libya with China in a sprawling Asian-Arab Federation. The Chinese leader, who was presiding over a country with over 1.0 billion people, apparently pondered for a while, so the joke goes, and asked Qaddafi how big his country's population was. Told it was a paltry 3.4 million, Deng told Qaddafi: "Why don't you bring them along when you next visit China?"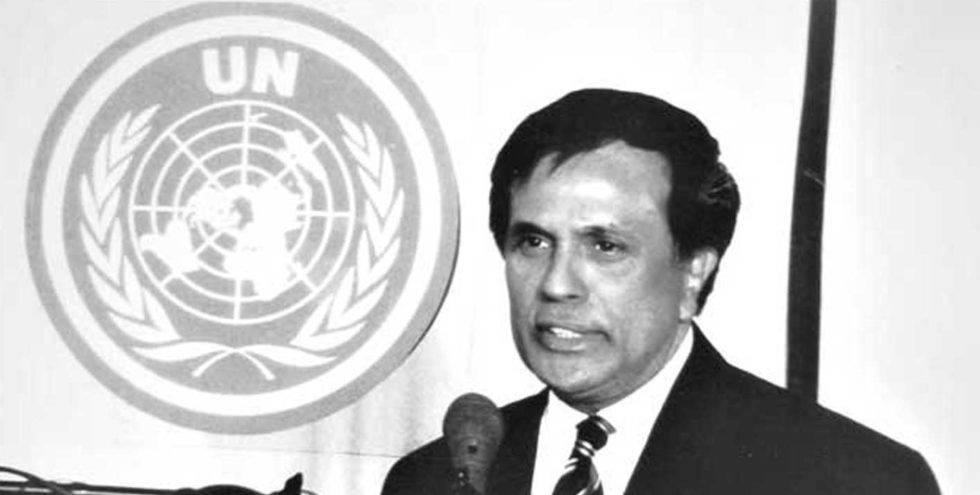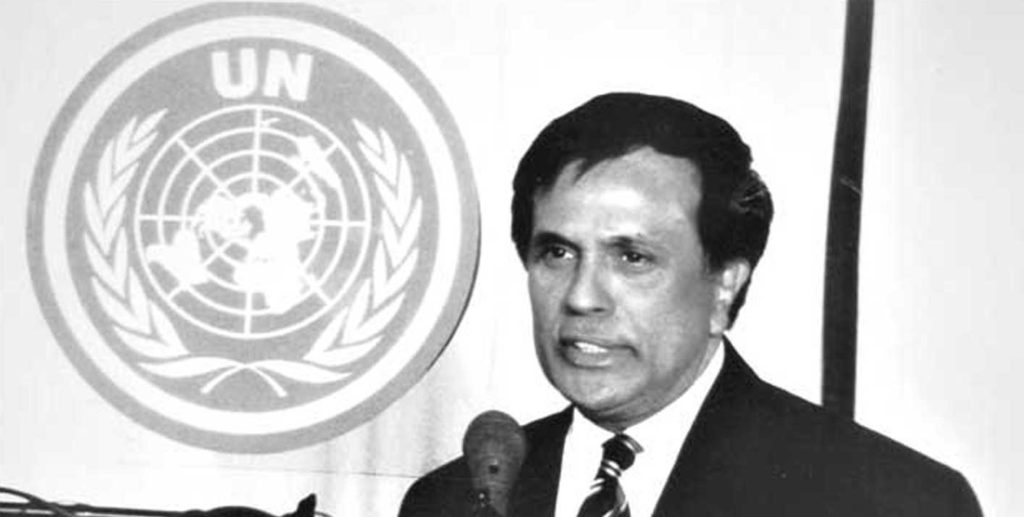 Meanwhile, the IPS office on the UN's fourth floor was an occasional meeting place for representatives of liberation movements accredited to the UN, including the PLO, POLISARIO, and FRETILIN, recounts Deen.
One regular visitor was Jose Ramos-Horta, designated as foreign minister in the government-in-exile set up by the liberation movement FRETILIN (Revolutionary Front for an Independent East Timor).
Winner of the 1996 Nobel Peace Prize and later president of East Timor (2007-2012), Ramos-Horta, according to a widely circulated anecdote, was at a dinner in a restaurant frequented by delegates, in the UN neighborhood, where waiters politely asked guests what country they were from.
When asked, he proudly claimed he was from East Timor, (a former Portuguese possession that was under Indonesian control from 1975 to 1999). "So, you are an Eskimo?", said the waiter displaying his geographical ignorance. "'No, no, no," replied Ramos-Horta: "I am not an Eskimo, I am from country called East Timor."
After he completed his presidency in 2012, he was appointed as the United Nations' Special Representative and Head of the United Nations Integrated Peacebuilding Office in Guinea-Bissau (UNIOGBIS) in January 2013. So, when Deen met him outside the UN on First Avenue, he double checked the anecdote— and Ramos-Horta confirmed it did happen. And they both laughed.
Meanwhile, a security officer once recalled an incident where the prime minister from an African country, addressing the General Assembly, was heckled by a group of African students studying in the US and visiting New York. As is usual with hecklers, the boisterous group was taken off the visitor's gallery, grilled, photographed and banned from entering the UN premises.
But about five years later, one of the hecklers returned to the UN —this time, as foreign minister of his country, and addressed the world body, proving that in politics and diplomacy, the wheel of fortune keeps on turning.
The book is available on Amazon.