Why it matters
The planet has entered a state of emergency with an unprecedented risk of damage to humanity and the environment. Global warming and the collapse of biodiversity are having fatal consequences on an exponential scale. The increasing number of extreme weather events we are witnessing – and unfortunately sometimes suffering from – highlights the magnitude of their consequences and the dramatic impact they can have. However, this development is not inevitable, and through determined action we can still make a difference. Urgent action is needed at all levels – everywhere and now – to reverse the trend. Reducing greenhouse gas (GHG) emissions can no longer be just one objective among many, but must become a permanent priority integrated into all our actions and processes. The decarbonization efforts already undertaken or under way must be accelerated and multiplied. As with balancing a budget deficit at a distant future date, it is imperative to start immediate and concrete reduction measures as of today. Otherwise, the target of balancing the carbon budget will never be reached within the set time frame. The name of 2050Today is intended to emphasize that principle of action.
The tens of billions of tons of CO2 emitted each year and summarily and globally accounted for may seem abstract and harmless because they are invisible. In fact, these emissions are the accumulation of billions of actions for which we are all involuntarily and voluntarily responsible – and this is our chance. If we visualize in clay bricks (about 3 kg each) the weight of GHGs resulting from the production of a smartphone, of 20 kilometers driven in a thermal car or of 10 liters of heating oil, we can see that this weight represents no less than 10 bricks (30 kg). The continuous accumulation of CO2 emissions, like that of bricks, inexorably builds huge walls. The carbon footprint of the goods and services we produce and consume is thus a very real and measurable fact. Instead of being a complex issue often perceived as dependent on the major emitters, climate action to reduce emissions must become an everyday, recurring and exponential action undertaken by each and every one of us.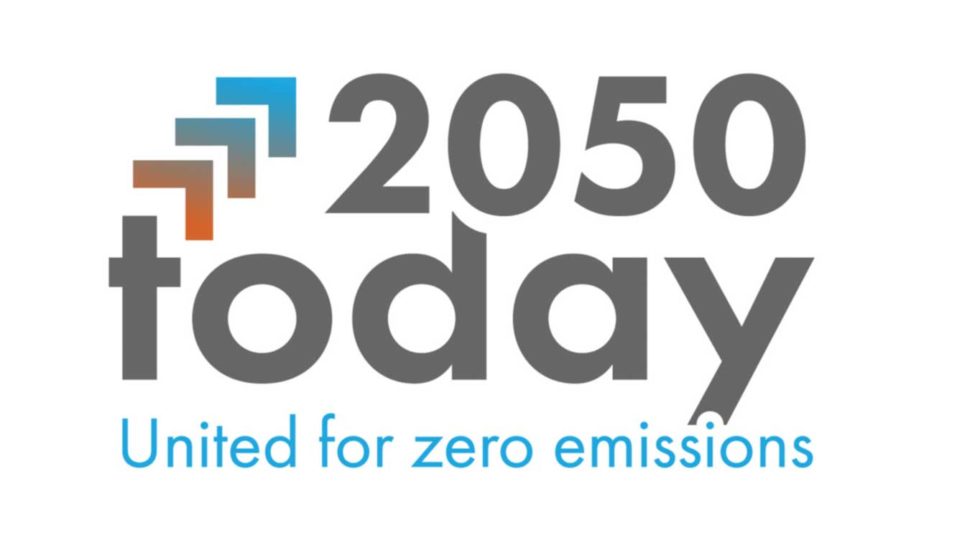 Joining forces for better action
In line with this desire to act, a significant number of institutions in International Geneva have decided to take action to confront the challenge of climate change by implementing 2050Today. Under the aegis of the Swiss Mission to the United Nations in Geneva, several Permanent Missions, the UN Office at Geneva and UNEP-Europe launched this initiative in October 2020 in cooperation with the Canton and the City of Geneva as well as the Secretariat of the Intergovernmental Panel on Climate Change (IPCC). 2050Today has the following objectives:
• Reducing the CO2 emissions of International Geneva by measuring them annually and publicly
• Developing a community of institutions committed to climate action
• Leading by example as an advocate and leader for inclusive and multilateral climate action
Within months, the call to action to reduce the carbon footprint of International Geneva was widely taken up. 60 Permanent Missions, international organizations, civil society and private sector entities have joined 2050Today. Through this initiative, member institutions and their staff have started to implement concrete measures to reduce GHG emissions. They measure their results on a common calculator that ensures external verification of the carbon footprint. The first carbon footprint of the member institutions was calculated for the year 2019. The cumulative emissions reported were 325,000 tCO2 eq. To absorb this amount of CO2 in one year, more than 13 million cedar trees like those adorning the grounds of the Palais des Nations would be required. The Canton of Geneva has just over one million trees.
In order to multiply the impact of joint efforts, the 2050Today community provides to its members a platform for sharing experiences, solutions and practices and makes them accessible to all. 2050Today offers five thematic working groups – Energy / Mobility, Food & Biodiversity / Procurement Policies & New Equipment / Recycling & Waste Reduction – to develop, share and implement solutions on climate action. Through their collective commitment to transparently reducing their emissions, 2050Today members want to set an example. Geneva, as the European headquarters of the United Nations, the IPCC and the World Meteorological Organization, and as the main implementation centre for the SDGs, is eager to be that symbol of responsibility.
Joining 2050Today means participating in a coalition of entities and people committed to reducing emissions and taking action to ensure a sustainable planet for future generations. The initiative is open to any international Geneva institution (international organization, Permanent Mission, company, association or collective) committed to respect its values. We will be glad to welcome you and your institution. For more information please visit: 2050today.org